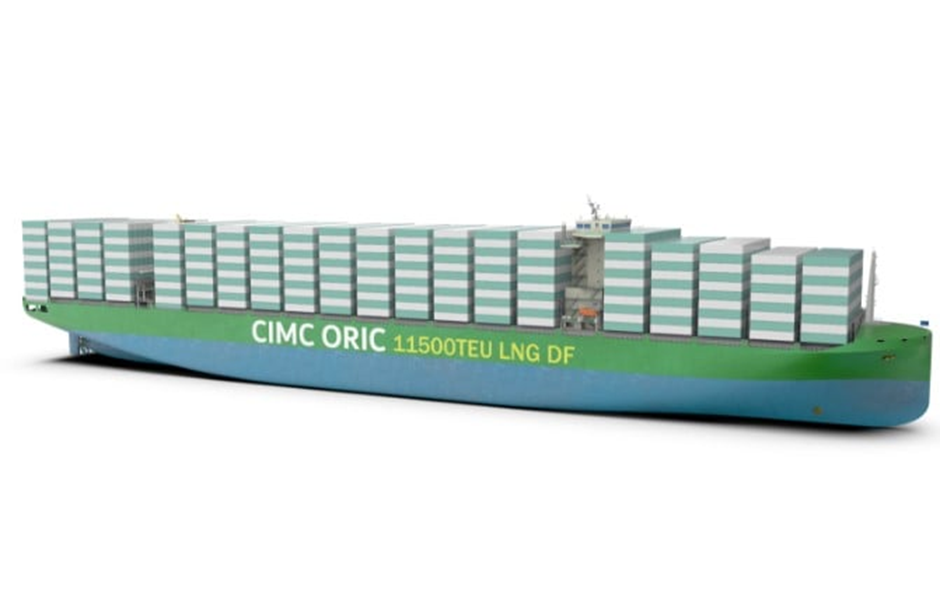 Although liner heavyweight Mediterranean Shipping Company (MSC) is trying to keep its ordering of new boxships on the down low, details have emerged of the company's ten recently ordered LNG dual-fuel containerships.
The order was confirmed by China's CIMC Group, which disclosed that the construction contract was secured by Zhoushan Changhong, a joint venture between privately-owned Jiangsu Xin Chang Jiang Group and state-owned China International Marine Containers Group (CIMC).
The ten 11,500 TEU vessels have been designed by CIMC's subsidiary CIMC Ocean Engineering Design and Research Institute (CIMC ORIC). The delivery of the newbuilds will be spread between 2025 and 2026.
The vessels will span 335 meters in length, 45.6 meters in width, and they will feature a molded depth of 25.0 meters, a design draft of 12.5 meters, and a design speed of 20 knots. The vessels will be equipped with the largest C-type LNG fuel storage tanks in their class, according to CIMC, enabling the vessels to make a round-trip from China to Europe or China to the US in gas mode.
Furthermore, the ships have been designed with fuel efficiency in mind and they have 5 pct lower fuel consumption when compared to their counterparts of the same size.
They will have a 40 pct lower Energy Efficiency Design Index (EEDI) than the IMO emission baseline, and will be able to maintain their carbon intensity indicator (CII) rating within the healthy operating range until 2040, ahead of similar ships in the market, CIMC claims.
The 10 ships will be classed by DNV, Lloyd's Register (LR), and Bureau Veritas (BV).
According to Yin Xunbin, general manager of CIMC ORIC, this series of containerships will feature cutting-edge technology. Aside from the dual-fuel propulsion, enabling the vessels to run on both LNG and conventional fuel, the ships will also adopt the most-advanced ammonia-ready design.
Xunbin added that the bidding process with MSC was very intense and demanding as MSC insisted on faster speeds and lower fuel consumption in operating range, resulting in multiple rounds of design optimizations.
As a result, the containerships have been designed and equipped with a range of energy-saving and safety-enhancing features.
In terms of energy efficiency, the ships will be fitted with main engines and generators that can use LNG as fuel, as well as high-power shaft generators, shore power systems, energy-saving conduits, and energy-efficient monitoring systems. All of these features are designed to reduce the energy consumption of the ships and minimize their carbon footprint.
In terms of safety, the ships will be equipped with conventional CO2 and dry powder fire extinguishing systems, as well as a fixed water cannon fire extinguishing system on the deck surface. This system is designed to cover all containers carried on the deck surface of the ship and enhance the safety level of the vessel.
Source – https://www.offshore-energy.biz by Jasmina Ovcina Mandra