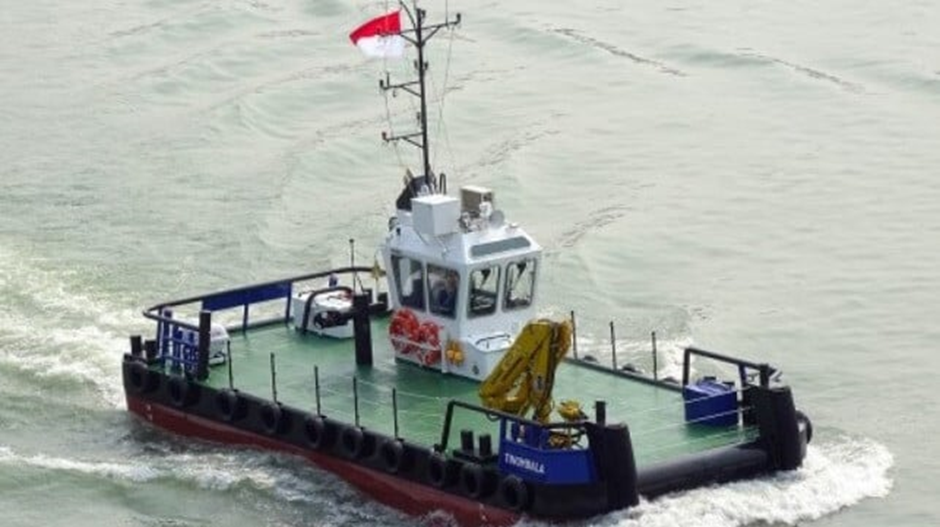 Technical acceptance of Damen CSD650 and MuC1506
At the Damen Dredging yard in Nijkerk, the Netherlands, the Cutter Suction Dredger (CSD) 650 Krakatoa has been inspected by its owner before shipment. The client has accepted the stationary dredger, which will now be shipped to Indonesia, where it will operate on the island of Kalimantan. Damen's customer ordered the CSD last November. The speed of the delivery is the result of Damen building its vessels on speculation and keeping them in stock, ready for order, along with options available for smart customization.
The client, PT. Pelayaran Fortuna Nusantara Megajaya (PT. PFNM) will deploy this CSD650, the largest CSD in Indonesia, at a port expansion project. The dredger can work in water depths up to -25 m. The suction ladder incorporates a submerged dredge pump, which works in series with the inboard dredge pump. In total, 3,938 kW of installed power ensures an impressive discharge distance and average dredge production of 7,000 m3/h. The smart customization includes the supply of a deck crane, an anchor boom installation, a dredge valve and a swivel in the discharge piping, plus a complete dredging instrumentation package.
Inspection at the yards
During their visit to the yard, the customer's delegation fully inspected the dredger. They supervised the various tests on the onboard systems and reviewed the customized options. Following the inspection, the dredger was transported to Rotterdam. From there, it will be assembled fully as deck cargo to the Port of Balikpapan, Indonesia.
In addition to the CSD, PT. PFNM will add a Multi Cat (MuC)1506 to their fleet to work on the same project. The technical acceptance of the MuC was accomplished with the help of a 3D remote tour on board the vessel. Ex-yard delivery took place at Damen Shipyards Changde, China.
Both workboats were named after natural phenomena, Tinombala (a mountain) for the MuC1506 and Krakatoa (a volcano) for the CSD650. Upon arrival in Indonesia, the vessels are expected to move the proverbial mountains of work on their first capital dredging job at the project location in Kalimantan. Together with the workboats, Damen will supply a complete dredging package, including spares and training. This will all ensure fast deployment of the vessels.
Damen Shipyards Group – Oceans of Possibilities
Damen Shipyards Group has operated for over ninety years and offers maritime solutions worldwide through the design, construction, conversion, and repair of ships and ship components. By integrating systems, we create innovative, high-quality platforms that provide our customers with maximum added value.
Our core values are fellowship, craftsmanship, entrepreneurship, and stewardship. We aim to become the world's most sustainable shipbuilder via digitalization, standardization, and serial construction of our vessels.
Damen operates 35 shipyards and 20 other companies in 20 countries, supported by a worldwide sales and service network. Damen Shipyards Group offers direct employment to more than 12,000 people.
Source – THE MARITIME EXECUTIVE