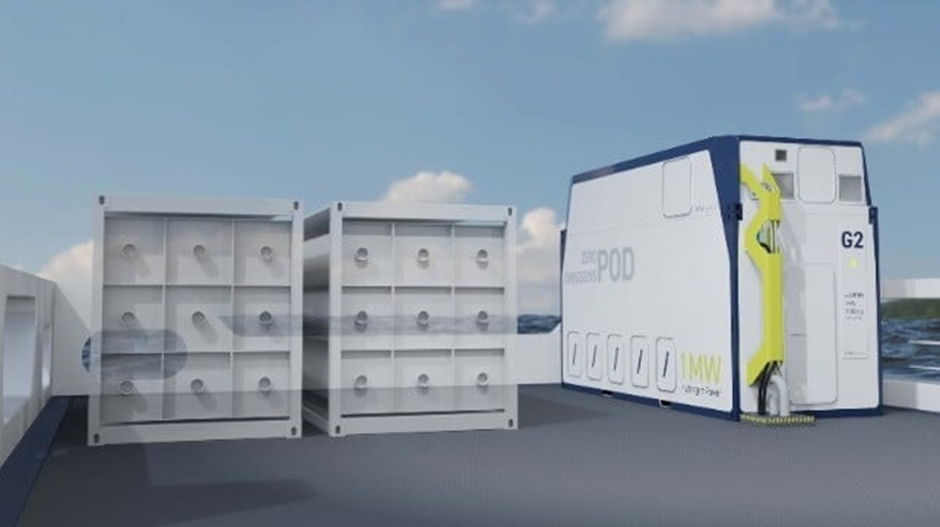 Designs for a deck-based hydrogen energy system that would be fully containerized to speed the installation process and convert ships to hydrogen power received an Approval in Principle (AiP) from DNV. The concept for the design was announced six months ago by Norway-based HAV Hydrogen as an easy-to-implement solution that only requires deck space from the ship to begin the conversion process.
"The H2 system is a simple yet effective enabler of green shipping," says Kristian Osnes, managing director of HAV Hydrogen. "It can either be utilized as a retrofit option for vessels that have not already been prepared for a conventional retrofit installation below deck or as a complete plug-in module that de-risks the yard installation for newbuilds."
The Zero Emission Pod system is a turnkey, standalone power pod where all support and safety systems as well as electrical power management are included. By using 200kW hydrogen fuel cells, the system is flexible and can easily provide 1,000 kW within the footprint of a standard 20 container. By combining multiple containers, using larger modules or dedicated space below deck, multi-megawatt energy systems will also be available.
"The AiP is based on a 20-foot container that not only contains the hydrogen fuel cells, but also the equipment required to safely run it," explains Osnes. "This includes ventilation, cooling, safety systems, control system, DC/DC drives, fuel distribution system, and other technical installations."
HAV says the system can be used for the main propulsion, or for additional power supply on board the vessel to comply with green operation standards. The output effect will be dimensioned to provide optimal zero-emission power in desired operating situations, sailing patterns, and vessel type. It can also ensure sufficient power on dock so that the vessel would not require shore power.
"There is significant interest from shipowners in multiple industry sectors. We have been contacted by companies that operate within offshore wind, oil and gas, RoRo shipping, cargo, inland shipping, and fishing. They acknowledge that our containerized solution can be the quick route to zero-emission for their vessel types. Given that necessary infrastructure is in place, all a shipowner needs to do is to clear sufficient deck space and hook it up to the vessel's power system," said Osnes.
HAV Hydrogen reports it will be ready to start manufacturing the Zero Emission Pod H2 containers during the second half of 2023, aiming for the first deliveries in 2024.
The company is also working on other systems for ships. In 2022 they reported design approval from DNV for a hydrogen system that is being developed with Havila for the company's cruise ships operating along the Norwegian coast. HAV reported it would be moving to the final design stage for this system.
Source – THE MARITIME EXECUTIVE