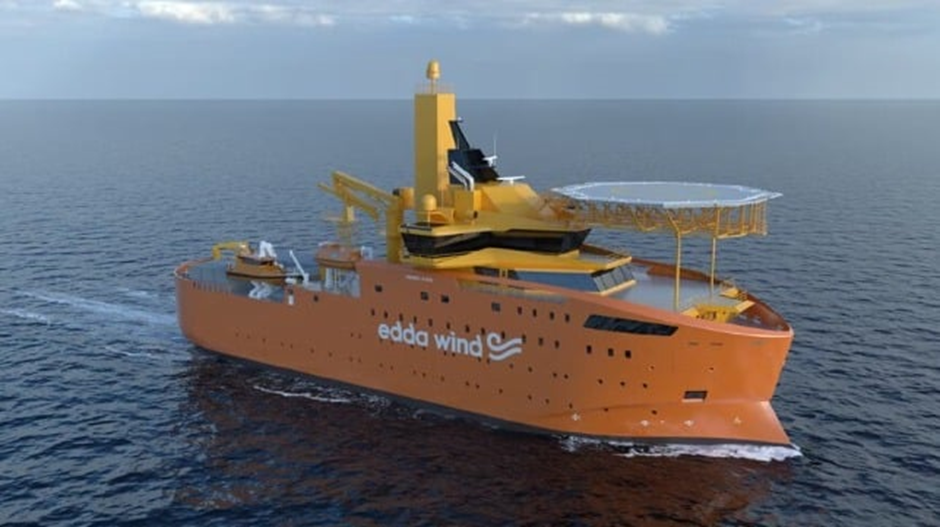 Norwegian offshore wind service vessel company Edda Wind is making an aggressive move ordering new ships to fill a perceived gap in the market for wind commission services. Edda entered into a contract with Fincantieri's subsidiary Vard for the construction of four commissioning service operation vessels (CSOVs) valued at $268 million and took options for two sets of two more vessels at the same contract price.
The new order comes as Edda is still in the process of commissioning its current batch of orders. In addition to four SOVs in service, the company is introducing its newer CSOVs with two vessels currently in operation while it expects to commence operations with five more during 2023. By 2026 they will have a total of 10 CSVOs and in addition, currently hold options for up to five more vessels.
The order with Vard calls for the delivery of the first two vessels in the first quarter of 2025, with the third during the second quarter of 2025 and the fourth in the first quarter of 2026. The first two vessels will have their hulls built at Vard's Romanian shipyard while being outfitted and delivered from Vard's Norwegian yards while the third and fourth will both be built and delivered from Vard's Vung Tau yard in Vietnam. If the options are exercised, those vessels would also be delivered in 2025 and 2026.
The newbuild order comes as two of the company's newest CSOVs, Edda Breeze and Edda Brint, built at the Astilleros Balenciaga shipyard in Spain and currently outfitting in Denmark, are two months behind schedule. The vessels are expected to enter service later this month and have already secured long-term contracts with offshore wind operators in Europe. Edda Wind has contracts with the industry's majors, including Orsted, Vestas, Siemens Gamesa, and SSE.
"Edda Wind expects to benefit from scale in achieving attractive financing as well as lower operating expenses and redundancy in our operations," says Kenneth Walland, CEO of Edda Wind explaining the strategic move. He made a presentation on the expected opportunities in the market while also noting, there are few specialized yards capable of building these vessels and "newbuilds not looking to get cheaper."
The company forecasts that demand for offshore wind assets will spike by nearly 100 percent by 2026. They estimate that more than 250 service vessels will be required, excluding China, through the period to 2030, yet the supply of existing CSOVs plus newbuilds amounts to around 60 vessels, of which 50 percent are engaged on firm contracts.
Edda Wind has already generated a $418 million backlog and continues to actively tender for future contracts. They point to a highly fragmented market today for the services while projecting that day rates will soar from a current level of around $35,000 to $46,725 by the end of 2026 driven by the huge demand/supply gap. They foresee a market opportunity to generate better than 50 percent IRRs from their assets. Edda Wind intends to finance the vessels through a combination of debt and equity, including a private placement to cover the equity part of the financing. The four largest shareholders of Edda Wind, Østensjø Wind, Wilhelmsen New Energy, Geveran Trading Co, and EPS Ventures have already committed to nearly $100 of the financing.
The vessels are based on the Vard 4 25 design and have been designed exclusively for Edda Wind in collaboration between the companies. The vessels will be prepared for zero-emission operations based on a Liquid Organic Hydrogen Carrier (LOHC) concept in addition to being methanol ready.
The design concept sees the vessels functioning as mother vessels for wind turbine technicians as they perform commissioning and maintenance work on the wind turbines. Each ship will have 101 cabins and will accommodate up to 95 technicians and 25 marine crew. Anti-heeling and roll reduction systems will be employed along with a motion-compensated gangway system. The design is optimized for fuel efficiency and efficient logistical operation for the turbine technicians.
Source – THE MARITIME EXECUTIVE