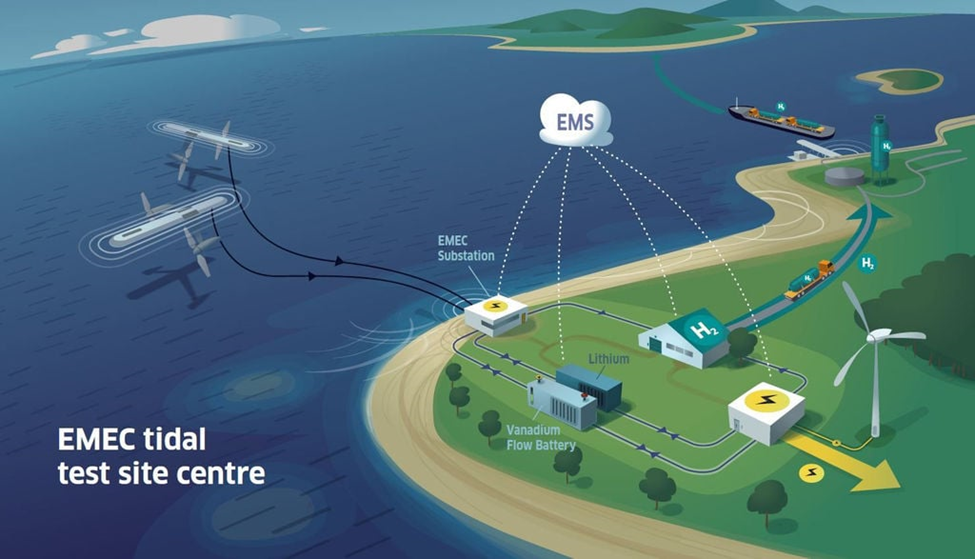 Engie's Laborelec has placed the final order for a storage solution to Entech Smart Energies as part of the FORWARD2030 project, whose aim is to develop a multi-vector energy system and further advance floating tidal energy technology.
The final order for a 1.2MW/1.5MWh Lithium-ion battery marks a key step in taking the EU-funded multi-vector energy project forward, according to developers.
Made under the 'Energy Management and Array' work package, the order is the culmination of 18 months of intensive work and study, led and conducted by Laborelec, with the support of consortium partners, in particular the European Marine Energy Centre (EMEC) and Orbital Marine Power, which is leading the project.
Studies included sizing the battery based on very specific electrical and network infrastructure at EMEC, conditions imposed by the network operator, the extreme site conditions and competitive technologies available, Laborelec informed.
"Down the line, installation of the battery will allow us to use the EMEC site in Orkney as a 'real environment test laboratory' furthering other elements of the project and answering the needs of large-scale commercial offshore projects in the future," said Fiona Buckley, senior expert for wind and hydro, and senior project manager at Laborelec.
To remind, the €26.7 million FORWARD2030 project has been supported with €20.5 million grant from the EU's Horizon 2020 research and innovation program back in 2021.
The project, running until 2025, will see the installation of Orbital Marine's floating tidal energy turbine, integrated with a hydrogen production facility and battery storage at EMEC's Fall of Warness tidal test site off Eday in Orkney.
There, Orbital Marine has already installed its 2MW O2 tidal energy turbine. Once installed next to the O2, the new turbine will be part of the world's most powerful floating tidal energy array.
The partners plan to deliver several technical innovations targeting increased rated power, enhanced turbine performance and array integration solutions, which are expected to further reduce the cost of Orbital Marine's technology.
EMEC will host the demonstration, facilitate hydrogen production, deliver a comprehensive environmental monitoring program, and develop a live environmental monitoring system and test program.
Aside from Laborelec, EMEC, and Orbital Marine, other project partners include SKF, University College Cork, and the University of Edinburgh.
Source – https://www.offshore-energy.biz by Amir Garanovic