It is a fact that more than 80% of world trade is done by sea route and through shipping medium that includes food grains, oil, LNG AND LPG, and even arsenals and weapons too etc.
But the thing is we all got involved in taking care of our own sake and needs that we forget to take care of the environment and sea we are polluting and destroying marine habitats.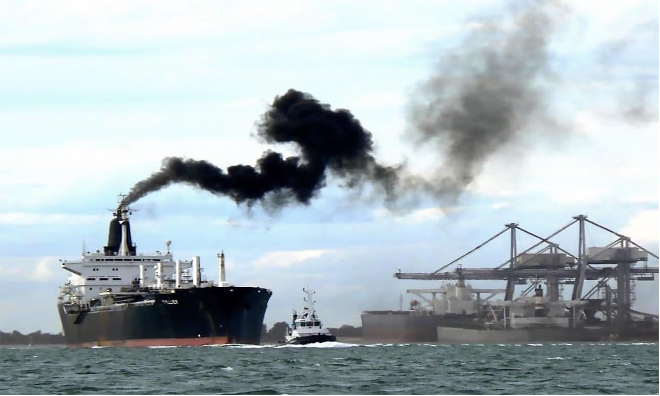 Source: splash247
The ocean is being impacted by increasing carbon dioxide (CO2) and other greenhouse gas emissions (GHG) from human activitiesand burning cheap fossil fuels.
➢ This causes changes in water temperature, ocean acidification,deoxygenation, leading to changes in oceanic circulation and chemistry, rising sea levels, extreme weather, and changes in the diversity and abundance of marine species.
➢ The most important thing which is largely impacted by global warming is the marine industry. For example: the Temperature of the sea is increasing which increasing the need for machines to cool down the machineries, more Lube oil combustion, efficiency decrease, etc.
➢ Degradation of coastal and marine ecosystems threatens the physical, economic and food security of local communities, as well as resources for global businesses.
According to a report by UNCTAD:
Carbon dioxide emissions (TONNES) in 2012 and 2022 for 33 main flags of registration: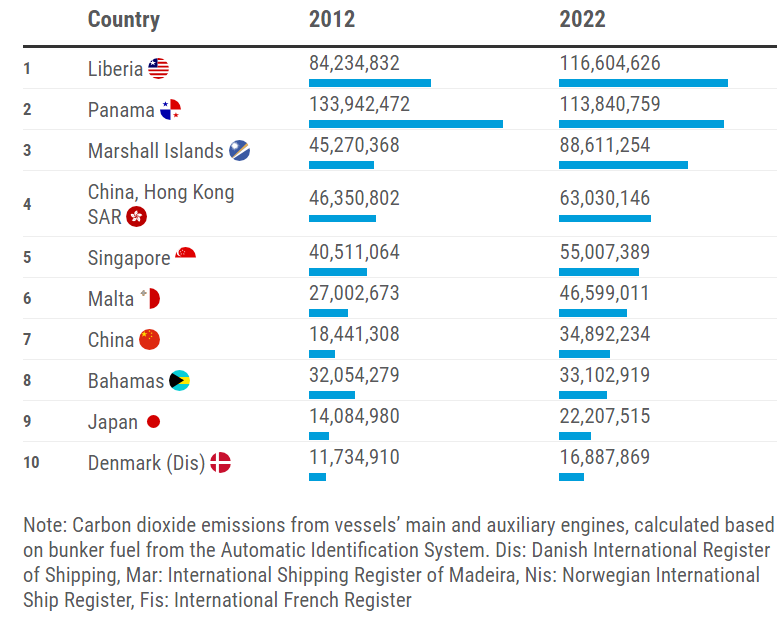 Source: UNCTAD, based on data provided by Marine Benchmark, June 2023.
RECTIFICATIONS AND NEED OF THE SHIPPING INDUSTRY TO CONTRIBUTE TO IMPROVING AND PROTECTING MARINE LIFE AND THE ENVIRONMENT:
Greenhouse gas emissions from the world's maritime fleet are heading in the wrong direction. Between 2020 and 2021, they went up by 4.7%, with most of the increase coming from container ships, dry bulk carriers and general cargo vessels. 
Why?……because companies want more and more profits so they use bad and cheap quality fuels which have high sulphur and carbon content which obviously will increase the emission and pollute the air and the sea.
Major container liner shipping companies such as MSC, CMA-CGM, STENABULK have more focused on using LNG and ETHANE fuelled ships to reduce harmful ship emissions.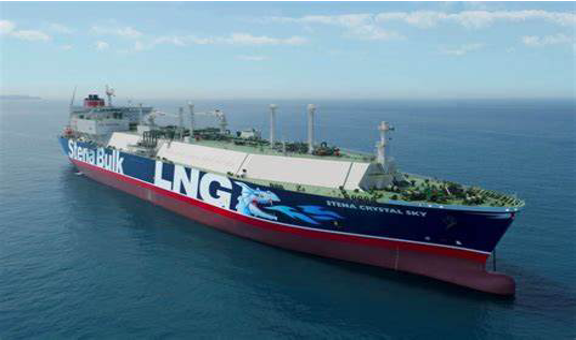 Source: stenabulk.com
Dual-fuel engines are now been implemented in many cargo ships. For ex. Wartsila has already developed this technology and started using it too which is historic in their own kind.
Accidents and fire on the ship which creates oil leak and hazards in the sea should be properly treated and should be taken care of so that marine habitat does not get affected too much.
Like emissions, the fleet's average age is also rising- another concern for the environment since older ships pollute more. By the number of ships, the current average age is 21.9 years, and by carrying capacity 11.5 years.
Use of low sulphur content fuel like ULSFO( fuel with Max. 0.1% sulphur content ) and VLSFO ( less than 0.5% sulphur content in fuel) should be entertained and the companies should not think of the cost of the fuel but focus on taking care of the marine environment
So, owners need to have pay attention on new technologies, replacing old ships which consumes too much oil and emits too much smoke with newly built and technologically advanced ships which can use LNG and LPG as fuel to reduce emission.

The world needs a new generation of ships that can use the most cost-efficient fuels and integrate seamlessly with smart digital systems. But shipbuilding volumes remain low.
Total CO2 emissions of the world merchant fleet annualized monthly, January 2012- April 2022, million tonnes
So, before it is too late, we have to take certain steps to improve and make the shipping sector fully decarbonised by 2050
Shore supply is now available in most of the ports in the world to limit the emission on ports by using power supply from shore reception facility
More stringent rules and regulations in favour of the environment and to protect the Marine habitat.
Conclusion
Industry understands the pressing need to act. The Getting to Zero Coalition was established in 2019. At an intergovernmental level, the Zero Emission Shipping Mission and Green Corridors (The Clydebank Declaration) have followed. These initiatives need to be supported by action, innovation, and celebration
We know what is required: new fuels, new ships, and new ways of operating. We know we need to collaboration across the three key maritime value chains. However, knowing where you want to go and getting there are challenges of vastly different degrees. We need to accelerate the conversion of ideas into practical solutions by creating a cross-value chain coalition of the action-oriented leaders.
Author: ATUL KUMAR RAI (JUNIOR ENGINEER)