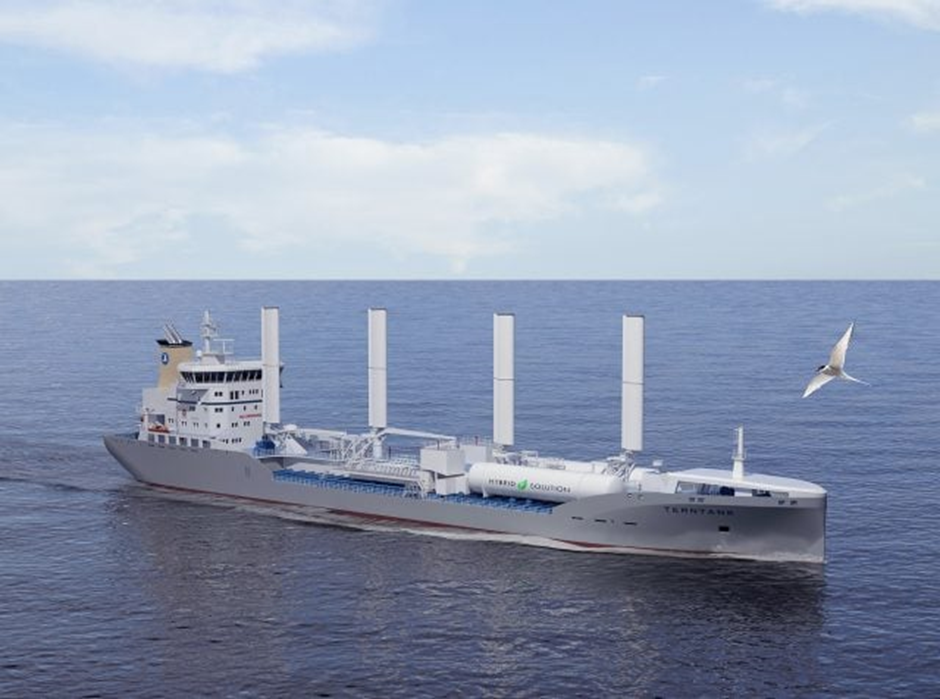 North European Oil Trade (NEOT), a Finland-based group specializing in oil and bioproducts sale in the Nordic countries, has signed a charter agreement with Terntank for the shipping company's two wind/methanol-ready hybrid tankers.
Swedish shipping company Terntank placed an order for two plus two new wind assistance and methanol-ready tankers back in November 2022.
The vessels are designed by Norwegian technology firm Kongsberg and they will be built at China Merchants Jinling Shipyard, Yangzhou.
The 15,000 dwt hybrid tankers with 14 cargo tank segregation are scheduled for delivery in March 2025.
In addition to the Hybrid Solution®, which enables a zero-emission approach and minimizes harmful pollution in ports located in urban areas, the vessels will be prepared for foldable sails for wind-assisted propulsion and dual-fuel engine, enabling the use of green methanol in the future.
The design is expected to result in an EEDI between 16-40% below the 2025 Phase 3 requirements.
The deal builds upon a ten-year long cooperation between the two companies. The duo has piloted the first liquefied natural gas (LNG) and liquefied biogas (LBG) powered tankers in operation. NEOT was also the first Finnish company to use fossil-free LBG in shipping in 2018.
"For NEOT it is extremely important to reduce the carbon footprint of our supply chain, and this has been possible with Terntank with whom we have together been front runners in achieving less emission causing cargo transportation by sea. We are very proud to work together with Terntank as our shipping partner and are highly impressed by the pioneering spirit of the company and how they safely operate the vessels. Also, thank you to the professional crew, who never hesitate to go the extra mile if needed," says Marc Scheller, director of shipping and operations, NEOT.
"The long and valuable relationship with NEOT, the company that has ambitious sustainability goals, enables us to continuously develop our vessels and to pilot new innovative environmental technologies onboard. Environment is important for us, and we want to leave it to future generations and set the bar high for next generation tankers", says Tryggve Möller, owner, Terntank.
Finnish energy service company Wega facilitated the charter agreement between the companies, Tertnak said.
Source – https://www.offshore-energy.biz by Jasmina Ovcina Mandra