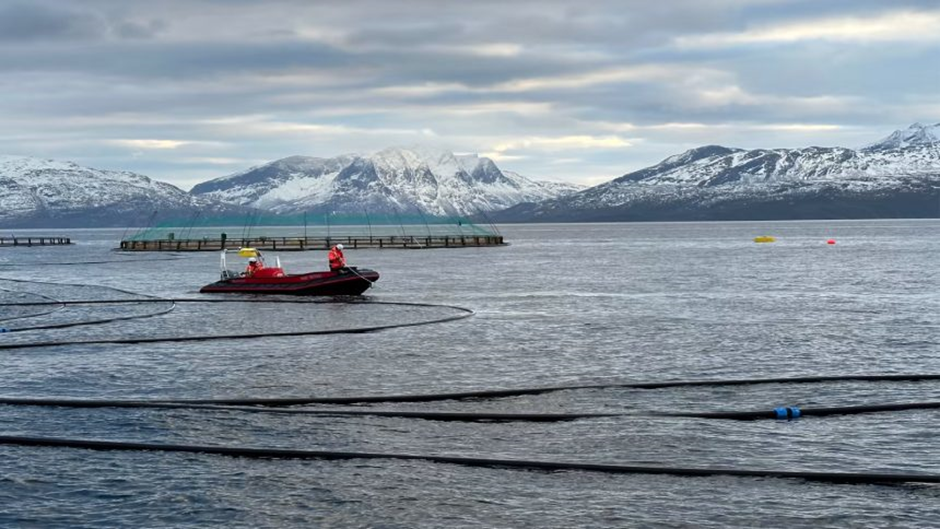 Salmon farming company Cermaq and Kelp harvester Folla Alger are testing a new combined sea site for salmon and kelp in Steigen in Nordland, Norway.
Cermaq said the facility is the world's first sea site that has been built for the combined production of both salmon and kelp, where the kelp will be grown inside the farm itself.
The sea site is designed as a traditional salmon farming facility with 24 cages, but with special solutions for growing kelp in the middle cages and salmon in the outermost cages on each side. Folla Alger collaborates with Cermaq on the salmon farming at the sea site, while research institute SINTEF Ocean produces the first kelp delivery for the stocking at sea.
Silje Forbord, Research Manager in SINTEF Ocean, said the setup allows the use of nutrients released by the salmon in a sensible way by producing kelp, which can in turn be used as a raw material in new feed.
The project team expects up to 50 per cent better kelp growth by cultivating it together with farmed fish. In doing so, the kelp gets better access to nutrition, and this is also possible during seasons when there are naturally less nutrient salts in the sea in general.
Some of the nutrients released from salmon net pens are water-soluble. These nutrients will fertilise the kelp and lead to increased carbon sequestration as the kelp grows.
With the help of photosynthesis, the kelp utilises the sunlight, grows and binds carbon from the sea, similar to the process for trees and plants on land.
The project will also look at how kelp production affects the aquatic environment in the net pens, and what effect the combined production has on the health of the fish in the cages.
Folla Alger has been granted research and development licenses from the Norwegian Directorate of Fisheries to carry out the project. SINTEF Ocean is responsible for the research, which will be carried out in close collaboration with the Norwegian University of Science and Technology (NTNU) and Nord University.
Source – https://www.bairdmaritime.com