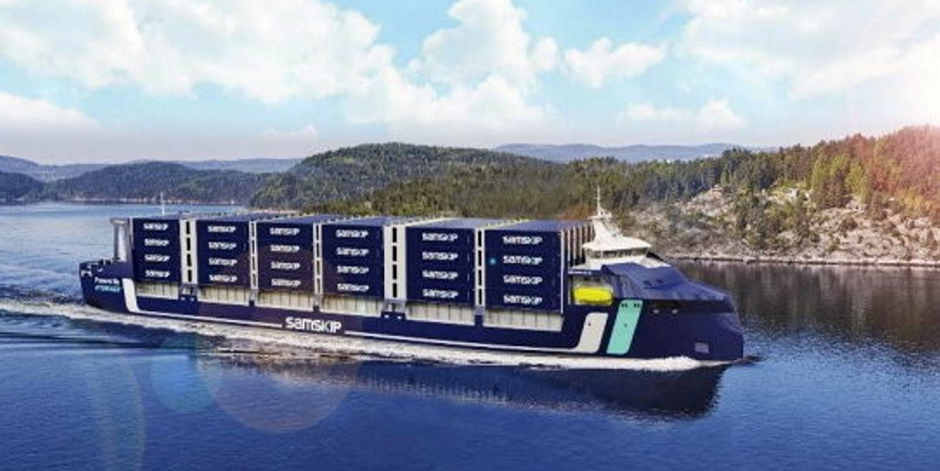 Cochin Shipyard Limited (CSL), India's top shipbuilder, has won a contract from Dutch logistics company Samskip for the design and construction of two zero-emission feeder container vessels.
The project, which includes an option for two more vessels, represents one of the world's first zero-emission container vessels that will be powered by hydrogen fuel cells, with green hydrogen as the ultimate source.
The vessels, capable of carrying around 365 45-feet long high cube containers, are intended to serve the European market where sustainable transportation solutions are in high demand.
Each vessel is expected to achieve a reduction of around 25,000 tons of CO2 per year in zero-emission mode, and they will operate with zero emissions in ports using green shore power at the port of call. The vessels will be delivered from Q3 2025 onwards and equipped with hydrogen fuel cells in a hybrid power system with diesel generator backup for longer endurance. They will also have an onboard hydrogen fuel storage facility and be fitted with azimuth thrusters for propulsion and high maneuverability.
In addition to this project, CSL has recently secured contracts for the construction of two Commissioning Service Operation Vessels (CSOV) for the European renewable offshore wind-farm segment. These vessels also employ emission reduction technologies, including large-capacity lithium-ion batteries and methanol-fueled generators. Naval Dynamics AS, a marine engineering company, is also taking part in the project providing design and engineering services for the multi-megawatt fuel cell vessel series.
Cochin said that the ambitious project will receive funding under the Norwegian Government's program aimed at emission-free transport solutions by adopting sustainable path-breaking future technologies.
"This endeavour is another of Samskip's initiatives that is an important step towards reaching our sustainability targets outlined in our latest sustainability report. It reinforces our commitment to the Sustainability Science Based Target initiative and will support our goal of reaching Net-Zero by 2040," CEO of Samskip Group, Kari-Pekka Laaksonen, said.
"We have continuously practiced what we preached because sustainability is in our DNA and we are invested in the future; the future for green logistics, our planet, our economy and in the next generation of seafarers and we are certain that this project will be a game changer."
"With this collaboration, CSL has further strengthened its position among the global league of early movers in sustainable green future technology thereby ready to meet the futuristic market expectations," said the Chairman of Cochin Shipyard Madhu Nair.
Cochin Shipyard has been dabbling with the development of vessels adopting alternative energy sources, including a hydrogen fuel-cell ferry and vessels powered by ammonia.
The shipbuilder is developing a 100-passenger hydrogen fuel-cell ferry with KPIT and the Indian Classification Society, scheduled for completion in mid-2023.
Namely, the country's first indigenously built hydrogen-fuelled electric vessel is planned to be delivered by March/April 2023.
The vessel will be powered by two 25 kWh H2 fuel cells, developed by a global software integration major for the automotive industry KPIT. It builds upon the yard's experience gathered in the construction of battery-powered metro boats for the Kochi Metro.
The construction of the ferry is a pilot project, which is considered a launch pad for the country to tap the vast opportunities lying in the coastal & inland vessel segment both nationally and internationally.
The company has already secured international contracts for zero-emission vessels. One of the most recent examples saw the delivery of the world's first fully autonomous, zero-emission ships to Norwegian partner ASKO.
In line with this strategy, CSL is also working on proposals for vessels powered by ammonia for India's manufacturing and transport sectors, including an 8,000 dwt coastal bulker vessel and a coastal tug boat. The company is working with global partners, including Wärtsilä and MAN, to develop the necessary know-how for building these innovative vessels.
India has declared that it plans to become energy independent by 2047 and a net zero country by 2070. Green hydrogen is expected to play a critical role in that strategy as the country looks to tap into its vast renewable energy resources.
Shipping is being targeted as part of the first stage of the phased transition approach together with steel production, long-haul and heavy-duty mobility.
India plans to establish green ammonia bunkers and refueling facilities at least at one port by 2025. By 2035, all major ports in the country are expected to have ammonia bunkering facilities in place.
Source – https://www.offshore-energy.biz by Jasmina Ovcina Mandra