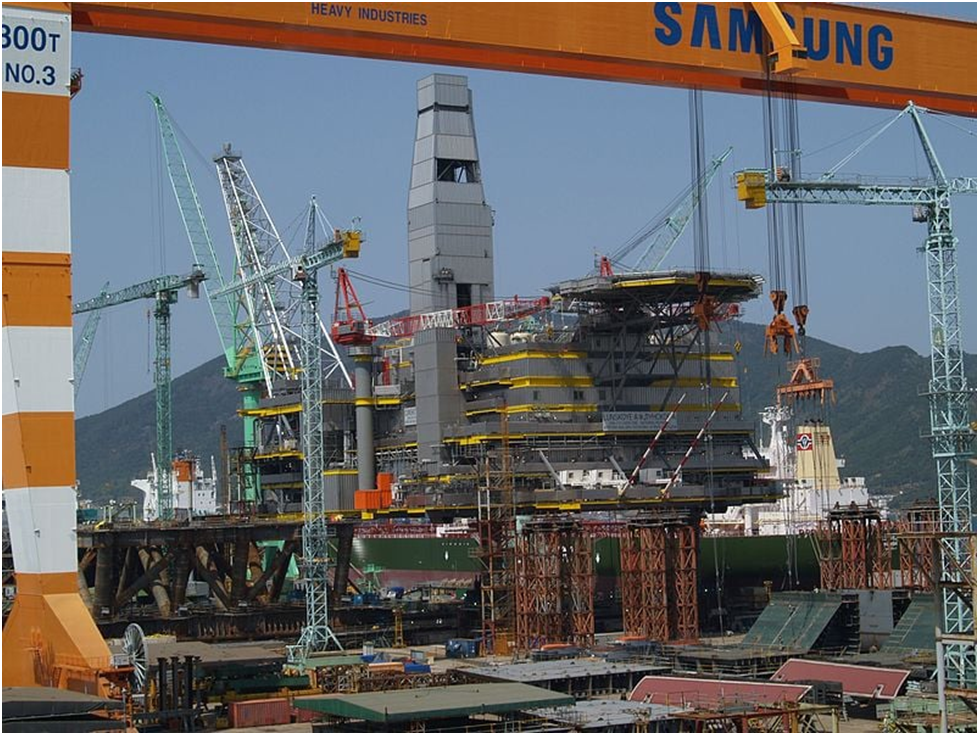 South Korea's shipbuilder Samsung Heavy Industries has signed a Memorandum of Understanding (MoU) with French software corporation Dassault Systèmes to create a "smart yard" based on new digital transformation technology.
The smart yard is designed to optimize the shipyard operations' scheduling and execution as well as streamline and automate the flow of information required for construction, to accelerate production and assembly operations.
By streamlining its operations SHI wants to improve its production capacity and shorten delivery to better meet the booming demand for liquefied natural gas carriers.
Through the introduction of model-based systems engineering, Samsung Heavy Industries can design more sophisticated and sustainable vessels requiring more automation, new systems and propulsions, and higher safety and control, Dassault said.
"Automation systems are proven to greatly affect business efficiency across all industries. A smart yard in the shipbuilding industry will also help reduce construction costs and improve the quality of ships," said Jung Nam Lee, DT Director, Samsung Heavy Industries. "We plan to accelerate innovation in shipbuilding."
Under the terms of the cooperation, Dassault Systèmes' 3DEXPERIENCE platform-based smart yard will support a digital thread integrating various data sources and real-time operations information. Connecting the virtual twins of ships and the virtual twin of the shipyard, automating and standardizing business processes with artificial intelligence, and optimizing planning and operations within the shipyard and with the supply chain will enable smart innovations for both production methods and production execution.
"It is essential for Korea's shipbuilding to accelerate its transformation with new and advanced technologies that allow it to keep its leadership in productivity and quality for complex vessels, and we are proud to support SHI in this journey," said François-Xavier Dumez, Vice President, Marine & Offshore Industry, Dassault Systèmes.
"Through our cooperation with Samsung Heavy Industries, we're given an opportunity to introduce and implement our outstanding marine industry solution experiences, and achieve a new paradigm in the shipbuilding industry in Korea."
The cooperation with the Smart SHI team of Samsung Heavy Industries will allow Dassault Systèmes to organize a consultative group for digital transformation to define and validate new processes and tools required to achieve the smart yard.
Meanwhile, SHI is making strides in its own automation agenda. Earlier this month the company announced that it had successfully demonstrated its autonomous navigation technology, for the first time in the industry, on the coast of Korean islands connecting the South Sea and the East Sea.
The demonstration involved a Mokpo National Maritime University's 9,000-ton training vessel, the Segye-ro, which was autonomously navigated a distance of about 950 kilometers on the Mokpo West Sea, demonstrating its autonomous navigation technology.
The Segye-ro, equipped with SHI's remote autonomous navigation system "SAS," succeeded in safely avoiding 29 collision risk situations where it encountered other ships during autonomous navigation, SHI said. The shipyard added that it was the first company to receive approval from the South Korea's Ministry of Maritime Affairs and Fisheries for the Ships Safety Act to demonstrate Samsung Autonomous Ship (SAS).
Source – https://www.offshore-energy.biz by Jasmina Ovcina Mandra