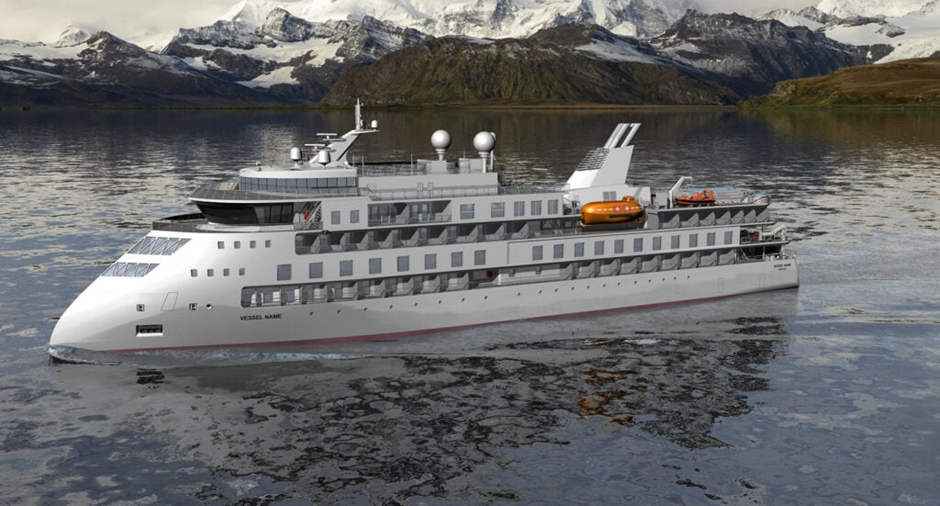 US-based expedition cruise ship owner SunStone Ships, a subsidiary of SunStone Maritime Group, has signed a contract for the construction of the seventh Infinity-class eco-friendly expedition cruise ship.
As informed, the vessel will be built at China Merchant Heavy Industries (CMHI). All the vessels in the Infinity class are designed by Ulstein Design & Solutions AS. These vessels were the first to introduce the patented X-BOW design in the cruise industry.
"We are immensely pleased to announce that we have signed a new contract with the CMHI Haimen yard for the construction of a new X-BOW expedition cruise vessel of the ULSTEIN CX103 design," stated Lars Ståle Skoge, commercial director at Ulstein Design & Solutions.
The new ship will be 104 metres long, 18 metres wide, and will have a draft of 5.1 metres with a capacity for 160 passengers.
Like the rest of Infinity-class vessels, the Ocean Odyssey is built with mechanisms for safe return to port, dynamic positioning and zero speed stabilizers and belongs to ice class 1A, Polar Code 6.
All the vessels in the SunStone Infinity series have Tier III engines with SCR catalysts to reduce emissions. They run on low sulphur Marine Gas Oil (MGO), have heat recovery systems and LED lights.
In addition comes the wastewater treatment and management system that cleans the wastewater before discharging it.
Five Infinity-class new-builds, Greg Mortimer, Ocean Explorer, Ocean Victory, Sylvia Earle and Ocean Odyssey have now been delivered, while the next vessel Ocean Albatros will be delivered in March 2023. All vessels ordered have long-term charter agreements in place, according to the company.
Source – https://www.offshore-energy.biz by Fatima Bahtic