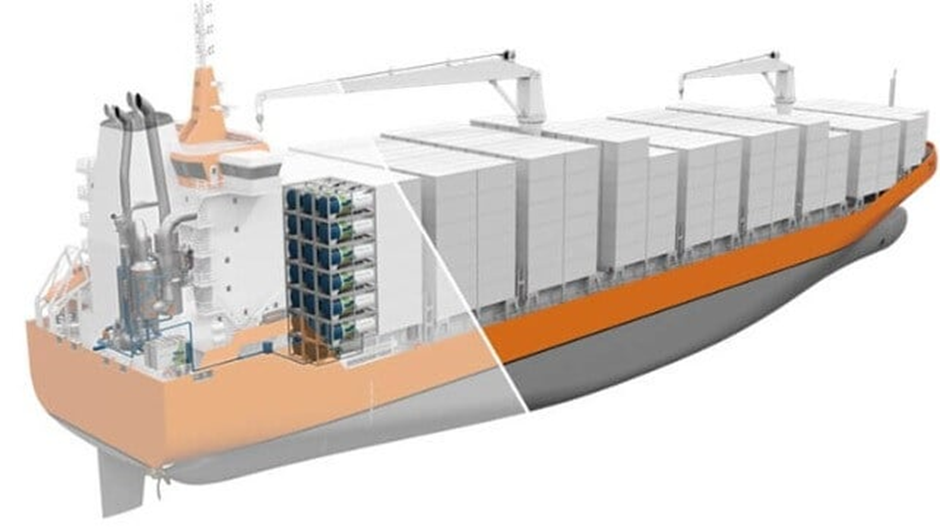 Wärtsilä received its first order for a carbon capture and storage-ready scrubber system even while they are continuing to develop and test the technology. According to their technology group, these efforts will make the ship futureproof protecting the shipowner's investment in a newbuild and mark a milestone in the efforts to propel maritime decarbonization.
Testing is still ongoing for Wärtsilä's CCS system which they first profiled just a year ago. Working with Solvang they reported developing a system that combined traditional exhaust scrubbers with the ability to capture carbon emissions. They reported encouraging results from initial tests on a carbon capture system designed to separate CO2 gas from a ship's exhaust and said that testing was proceeding. Wärtsilä reports that it has been able to achieve a 70 percent capture rate and that a pilot installation will take place within the next twelve months.
While the testing process is still underway, the company however received its first order in November 2022 with delivery expected to take place in 2023. Four 8,200 TEU container vessels, being built at an undisclosed Asian-based yard, will be fitted with Wärtsilä's CCS-Ready 35MW scrubber in an open loop configuration.
"By investing in a CCS-Ready scrubber, ship owners will futureproof their assets and enable a smooth transition to CCS adoption once the technology is mature in the very near future," said Scott Oh, Director at Wärtsilä's Exhaust Treatment Asia. "CCS is one of the key solutions to enable maritime decarbonization in a short timeframe, and we look forward to progressing our technology further."
The scrubbers are termed CCS-Ready because, as part of their installation, Wärtsilä will perform additional design and engineering work to ensure that future retrofits for a full CCS system on the vessels have already been accounted for during the newbuilding construction stage. Among the steps they are taking are measures to ensure adequate space for the future installation of the CCS system, incorporate considerations for minimizing idle load, and optimizing utilities. They are preparing the control and automation system for the CCS system and the scrubbers will also be designed for integration with a Particulate Matter filter.
By installing scrubbers that have been designed with the space and capabilities to have a CCS unit added, Wärtsilä says it is enabling ship owners to futureproof their existing assets while remaining competitive and compliant.
Wärtsilä is one of several companies pushing forward with designs and testing for capture systems. Initial testing is proceeding showing that what was once thought unlikely to be a solution for in-service ships is now a possible alternative to achieve the goals to reduce CO2 emissions. Developing an effective technology for CO2 capture is critical for the in-service fleet which is facing mounting deadlines to cut their emissions or be retired.
Source – THE MARITIME EXECUTIVE