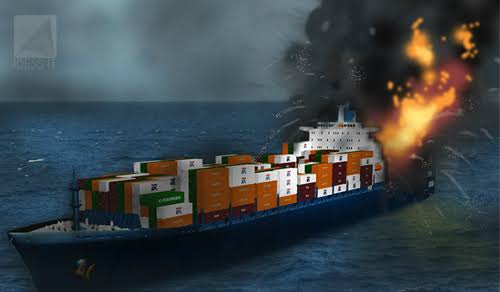 Shipboard Emergency Preparedness as the way ships are managed and operated using a systems approach, taking into consideration key procedures/tasks/equipment that through failure could result in an emergency. On the face of it, it would seem that every shipboard task/system is a key system in terms of emergency prevention.
Indeed with reductions in manning and economic pressures growing, ships senior crew have numerous tasks to perform, often simultaneously,
many of them "key" systems.
Examples of the types of emergencies that can occur onboard ships, that could result in a casualty and ultimately an oil spill are:

⦁ Equipment failures—main engine, steering, gyro compass, bridge control
⦁ Navigation—collision, grounding, heavy weather navigation, contact with a fixed or submerged object
⦁ System failures—hull, flooding, loss of stability, excessive list, fire and explosion
⦁ Procedural failures—bunkering, cargo handling
⦁ External forces—heavy weather loss or damage, terrorist attack The list is not exhaustive.
Contingency Plans and Emergency Preparedness Plans are in place for most of these types of emergencies; but only once they happen. Few companies have specific plans/procedures in place to prevent these eventualities—rather, procedures focus on standard operations. Compliance requirements exist with such eventualities in mind, however; for example ISM requires that there are procedures in place for key operations, and STCW ensures that people are properly trained.
SOLAS requires that the right life saving equipment is onboard and properly maintained, and that there are regular drills. What the authors are advocating goes beyond the "human element" concept that is inherent in ISM (for example the United States Coast Guard's Prevention Through People initiative). As well as the human element, there is a "management element", or management mindset, that needs to be broken down. Accidents that cause oil spills occur because the system; that is, the shipboard operating system; failed. Something went wrong, that probably could have been prevented or mitigated in some way; therefore, if all eight system elements were in place, we should have seen it coming.
To illustrate the mindset of the management element in shipping company systems development and training the authors use the "Routine Emergency" concept. The "Routine Emergency" concept A key concept that the authors stress is that the way safe operations are approached for day-to-day tasks, should be the same as that for non-routine or emergency operations. This is the essence of effective preparedness. Teaching Hazard Recognition concepts to Designated Persons Ashore (DPAs), Masters, and other sea staff will necessarily improve shipboard safety performance, and reduce the likelihood of incidents and accidents. By "hazard recognition" the authors mean the methodology commonly used in safety management, which is best illustrated for this forum as the methodology routinely used in hazardous materials (HAZMAT) response. Taking the HAZMAT safe approach (e.g., Recognition, Evaluation, Control, Information, Safety) would seem to be the obvious way to approach any routine work 376 1999 INTERNATIONAL OIL SPILL CONFERENCE situation.
Many Companies address this by way of their in-house Hazard Identification or Safety Auditing programs. In a shipboard setting, factoring safe approach and other standard HAZMAT hazard recognition principles into routine shipboard operational training and procedures can be extremely effective.
A good example is a routine procedure such as a confined space entry—not an "emergency", but a situation where safe approach, monitoring, back-up, control and so on are required—if these factors are not taken into account, then the situation does develop into an "emergency." Other routine situations where emergencies can develop relate to equipment failure or maintenance problems, or navigation and course planning, therefore many routine procedures need to be considered part of emergency preparedness. Putting shipboard emergency preparedness into practice There is a management equation which states there are three vital steps in the effective implementation of change;
⦁ The realisation that something is wrong
⦁ The recognition that things need to change
⦁ The ability to identify the first tangible step that needs to be taken in order to affect that change
In shipping, there is a lot that is wrong. Accidents and oil spills occur. Most companies acknowledge this, and this is why the ISM Code was introduced. Two of the most important of the eight system steps when putting in place an effective shipboard emergency preparedness program are: incident reporting and analysis; and training.
Working on these two elements first will enable you to discover what is going on; and initial training will enable senior staff to start looking at their jobs in a systems kind of way that really focuses on prevention and safety in day-to-day operations, and the concept of the "routine emergency." Incident reporting.
The authors have found that an effective incident/hazardous condition reporting system; and just one system, not separate ones for separate elements; is the first tangible step a company can take. Separate systems invariably result in a loss of communication, a loss of information, or both. The authors' incident reporting system approach covers all of the following elements, with specific categories in each for detailed incident analysis:
⦁ Near misses
⦁ Safety
⦁ Environment
⦁ Loss control (including maintenance)
⦁ Quality assurance (QA)—if Companies operate under a QA framework such as ISO 9000 series Outcomes of effective reporting include:
⦁ Guaranteed follow-up to a hazardous situation or condition
⦁ Changes in equipment, plant or procedure to prevent or minimise adverse effects occurring again on people, property or the environment
⦁ Communication of a problem to a different department or part of the organisation through Lessons Learned or Safety Alerts/Notice; for example, a failure or safety problem with a particular type of valve in one location or part of the fleet could easily be applicable elsewhere
⦁ Direct communication with company management
⦁ Analyzing trends and performance to see how we are doing, so we can change what we need to
⦁ Finding out what is actually happening, rather than what we either assume, or hope is happening; and ultimately better compliance with internal and external requirements It is vital that the incident reporting system covers not only accidents, but near misses or potentially hazardous conditions, and conditions sometimes associated with other operators that could impact your operations (for example, complaints from the public, non-complying actions of others which could be misconstrued as your own or could cause injuries for others).
Clear lines of authority, and reporting, and the timeframe of reporting are essential. Staff need to know which incidents require immediate notification, for example in order to activate a corporate crisis management plan or contingency plan. Feedback through reporting follow-up actions to the report initiator, and a Lessons Learned program are also essential, and can be a useful teambuilding tool also. The only way the incident reporting system will work is through active management commitment, training and a lot of work, but the authors have found that in a very short time there will be positive outcomes—better performance, better preparedness, safer for people and the environment. Training. The authors have referred to training as being an essential part of the implementation of any new procedure or system. Training is a core part of being a seafarer and there are numerous and often ongoing requirements for training and certification. Shipboard Emergency Preparedness is part of the existing training framework, in that many of the requirements for emergency operations are prescribed in legislation. However, what can be done it to bring the new perspective of integrating routine with emergency operations (refer above, "The Routine Emergency"), and give them some information and tools relating to improving their safety and minimising adverse effects on the environment. The authors refer to three levels of training:
⦁ What everyone needs to know, widely referred to as Awareness level training
⦁ Site specific training—what staff of a facility or ship need to know (e.g., Shipboard Familiarisation)
⦁ Task specific training—relating specifically to your job and qualifications, and any emergency operations responsibilities that you may have (e.g., if you are a DPA, a Master, a Chief Engineer, the Cook, a Rating, Operations Manager, the Chief Executive Officer, and so on) The Emergency Preparedness framework for the company should identify each of these levels, and factor them into a competency based training program, with annual refreshers and ongoing training, exercises and drills.
Such programs are normally managed by DP As or other senior staff, but again those people themselves need some tools and training ("You don't know what you don't know"). It may well be that additional training in the area of routine operations is required to bring to the staffs attention implications of situations which could cause non-routine conditions. Certainly ISM Code implementation requires additional training and awareness for staff of a wide range of issues.
But of all of the ISM implementation elements, only Shipboard Emergency Preparedness cuts across the roles and responsibilities of everyone in the organisation. For example, key elements that should be covered during Shipboard Emergency Preparedness
Training programs include:
Roles and responsibilities, contingency planning, reporting and notifications, safety equipment, hazard recognition, key routine procedures and the "routine emergency" concept, emergency procedures and response principles. An effective training program needs to be tailored to the company and the types of operations, the level of training (depending on the audience), and any particular areas of emphasis that may have emerged through PLANNING US2 377 audit, analysis of the incident reporting system information or compliance requirements.