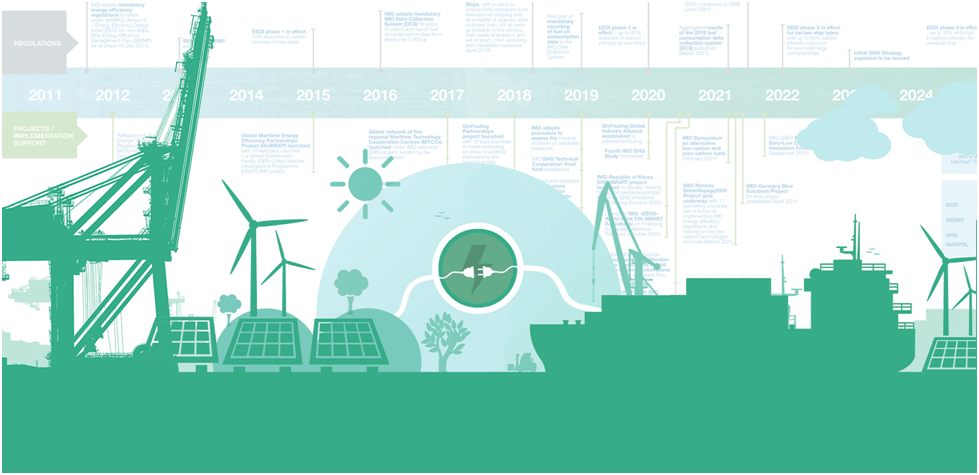 TIMELINE OF REGULATIONS, PROJECTS /IMPLEMENTATION SUPPORT
2011
Adoption of mandatory energy efficiency regulations for ships under MARPOL Annex VI – Energy Efficiency Design Index (EEDI) for new ships, Ship Energy Efficiency Management Plan (SEEMP) for all ships (15 July 2011).
IMO-KOICA (Korea International Co-operation Agency) GHG project on building capacities in East Asian countries to address GHG emissions from ships.
2012
"Mitigation of climate change" Global Programme included in IMO's Integrated Technical Cooperation Programme (ITCP), later renamed as "Energy Efficiency" Global Programme
2013
EEDI and SEEMP enter into force
Adoption of resolution on promotion of technical cooperation and transfer of technology relating to the improvement of energy efficiency of ships (MEPC.229(65))
2014
Approval of the third IMO GHG Study 2014 (October 2014)
2015
EEDI phase 1 in effect – 10% reduction in carbon intensity of new ships
Global Maritime Energy Efficiency Partnerships Project (GloMEEP) launched with 10 lead pilot countries – a Global Environment Facility (GEF)-United Nations Development Programme (UNDP)-IMO project
2016
Adoption of a mandatory IMO Data Collection System (DCS) for ships to collect and report fuel oil consumption data from ships over 5,000 gt
2017
Global network of five regional Maritime Technology Cooperation Centres (MTCCs) launched under IMO-executed
GMN project, funded by the European Union
Low Carbon Global Industry Alliance launched under GloMEEP project to support an energy efficient and low carbon maritime transport system.
2018
GloFouling Partnerships project launched with 12 lead countries to tackle biofouling on ships to address bioinvasions and support energy efficiency gains through cleaner hulls. A Global Environment Facility (GEF) -United Nations Development Programme (UNDP)- IMO project
Adoption of the IMO Initial Strategy on reduction of GHG emissions from ships, with a vision to reduce GHG emissions from international shipping and, as a matter of urgency, aiming to phase them out as soon as possible in this century and setting levels of ambition and set of short-, midand long-term candidate measures (April 2018).
2019
IMO adopts procedure to assess the impacts of States of candidate measures
First year of mandatory reporting of fuel oil consumption data to the IMO Data Collection System
IMO GHG Technical Cooperation Trust fund established
IMO Symposium on IMO 2020 sulphur limit and Alternative Fuels
Resolution adopted on voluntary cooperation between ports and ships to reduce emissions (resolution MEPC.323(74) of May 2019)
IMO-Norway GreenVoyage2050 Project is launched to support implementation of the Initial Strategy and pilot project demonstrations (May 2019)
2020
Approval of the Fourth IMO GHG Study 2020 (November 2020)
EEDI phase 2 in effect – up to 20% reduction in carbon intensity of new ships
GloFouling Global Industry Alliance established to address biofouling
IMO-Republic of Korea GHG SMART project launched to develop training to support developing States to reduce GHG emissions from shipping (October 2020)
Launch of IMO -EBRDWorld Bank FIN-SMART Roundtable on Financing Sustainable Maritime Transport (October 2020)
Resolution adopted on Encouragement of Member States to develop and submit voluntary national action plans to address GHG emissions from ships (resolution MEPC.327(75) of November 2020)
2021
IMO Symposium on alternative low-carbon and zero-carbon fuels (February 2021)
Aggregated results of the 2019 fuel consumption data collection system (DCS) published for MEPC 76 (March 2021)
IMO-Germany Blue Solutions Project for Asia project established (April 2021)
IMO-Singapore NextGEN project launched to connect decarbonisation initiatives (April 2021)
Adoption of short-term measures (EEXI, CII) to reduce carbon intensity of all ships by 40% by 2030, compared to 2008
IMO-UNEP Maritime Zero-Low Carbon Innovation Forum (September 2021)
Initiate consideration of mid-term measures under Phase I of the Workplan (October-November 2021)
Further consideration of assessment of impacts on States of candidate GHG measures (October-November 2021)
2022
EEDI phase 3 in effect for certain ship types with up to 50% carbon intensity reduction for new build large containerships
EEXI survey requirements take effect (November 2022)
2023
Carbon intensity measures enter into effect
Revision of the IMO Initial GHG Strategy
Start of carbon intensity data (CII) collection under the short-term measure
2025
EEDI phase 3 in effect – up to 30% reduction in carbon intensity for newbuild ship
2030
IMO Initial GHG Strategy objective of 40% reduction of CO2 emissions per transport work compared to 2008, as an average across international shipping.
2050
IMO Initial GHG Strategy objectives of 50% reduction of the total annual GHG emissions and 70% reduction of CO2 emissions per transport work compared to 2008 whilst pursuing efforts towards phasing them out – as a point on a pathway of CO2 emissions reduction consistent with the Paris Agreement temperature goals
DID YOU KNOW?
The EEDI and SEEMP were the first ever mandatory global GHG reduction regimes for an entire international transport sector.
KEY
EEDI Energy Efficiency Design Index – with increasingly strict carbon intensity standards for new ships
SEEMP – Ship Energy Efficiency Management Plan – for operators to improve the energy efficiency of all ships
GHG – Greenhouse gases
MARPOL – International Convention for the Prevention of Pollution from Ships
CII – Carbon Intensity Indicator
EEXI – Energy Efficiency Existing Ship Index
Source – IMO