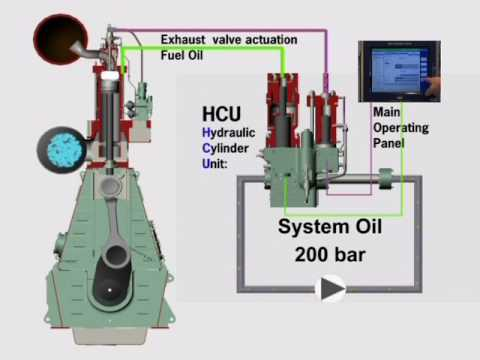 central electronic control system is the brain of the system which monitors and evaluate the general condition to keep the operating parameter within limits and keep the performance of the engine better.
The intelligent engine provides flexibility in operation by replacing mechanical cam shaft for fuel pump and exhaust valve with common rail system and computer controlled system.
To obey the emission norms, system is incorporated with catalytic clean up system and fuel economy modes which can be selected from bridge.
A reversing and crash mode choice is provided in the bridge, controlled through the main central electronic control which sends signal to the engine when in operational mode.
The central system consists of a program in which the protection system can be cancelled in case of emergency.
Main goals
The basic aim for developing intelligent engine is to reduce the operational cost of the propulsion plant, to have high fluctuation in operation and to cope up with the stringent emission standard imposed by regulating authorities under IMO . The following points to be taken into consideration for intelligent engines:
1) Reliability of engine increases
The central monitoring system monitors the fluctuation of load and distribute equally to all the cylinders.
It consists of overload protection system which will give alarm and trip's the engine, ruling out the possibilities of overload and thermal stresses.
Any other malfunction is displayed with an early warning and alarm system so that the problem can be tackled before it hampers the operational aspects of the engine.
This system increases the emission control flexibility.
2) Fuel and lube oil consumption cost reduces
The load operating efficiency increases as compared to normal engines which increases the life of the engine and maintenance schedule can be delayed which cut shorts the operational cost.
The performance is fuel optimized. Fuel oil, lube oil and other lubricants consumption extremely decreases which reduces the operational cost.
The engine and its performance is maintained as a new for its lifetime.
The cylinder lubrication is one of the most costly lubrication oil used in marine operation. The consumption is controlled with the help of mechatronic (incorporated with mechanical and electronic controlled enhanced system) cylinder lubrication with advanced dosage of oil.
3) Follow up of strict air pollution emission norms.
Now almost all the countries are following the stringent norms for emission from the ship's propulsion plant. The intelligent engine gives the flexibility to cope up with different standard for different controlled bodies by enhancing the emission performance characteristics.
To decrease the emission of harmful substance like Nox and Sox, catalytic controller and fuel control and consumption modes are incorporated in the control system.