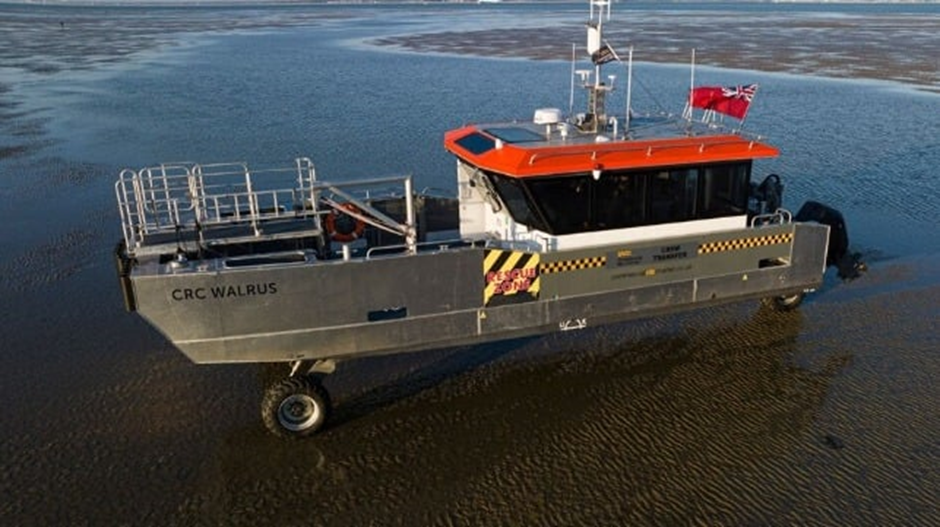 The UK's Commercial Rib Charter, which bills itself as Europe's largest Rib operator, is commissioning a unique crew transfer vessel designed to meet the challenges at the Scroby Sands RWE Wind Farm, a nearshore installation less than two miles from the UK coast. The vessel, named CRC Walrus, is the world's first amphibious crew transfer vessel.
The vessel, which is 42.6 feet long, is being put into service at the Scroby Sands site after having recently completed land and sea trials. Commercial Rib Charter (CRC), which provides a broad range of crew, safety, and service vessels, called the construction a "very technical build," tapping its experience working along with the UK's Diverse Marine. The shipyard located on the Isle of Wright also has broad experience in designing and building a broad range of crew transfer vessels and similar crafts for the commercial industry.
The Scroby Sands Wind Farm, which was commissioned in 2004, consists of 30 wind turbines, located on a sandbar with maximum water depths ranging from approximately 40 to 66 feet. However, located less than two miles from shore the site experiences shifting sand conditions which have piled up and decreased water depth, blocking access for traditional service vessels.
The operator of the wind farm RWE turned to CRC looking for a unique solution able to manage the conditions at the location. CRC used its experience in shallow-draft vessels to develop the designs for the CRC Walrus. According to its designers, the vessel combines the comforts and safety of a standard CTV with the capability and versatility of an amphibious Open Rib.The unique design permits the vessel to operate at depths of two and a half feet and then when it approaches the sand it lowers three hydraulically-operated 40-inch tires on 23-inch rims. The vessel has "all-wheel drive" and when on land is controlled with a joystick. Back in the water, it has twin OXE 300hp diesel outboards that give it a speed of between 23 and 29 knots. It is also outfitted with an air-cooled 240v generator and 37kW hydraulic power unit.
The vessel transports eight to the site while operating with two crew members. It has a maximum cargo capacity of up to 1,000kg. While aboard the technicians traveling to the wind farm have access to a galley with hot/cold water, a microwave, a refrigerator as well as a bathroom.
Source – THE MARITIME EXECUTIVE