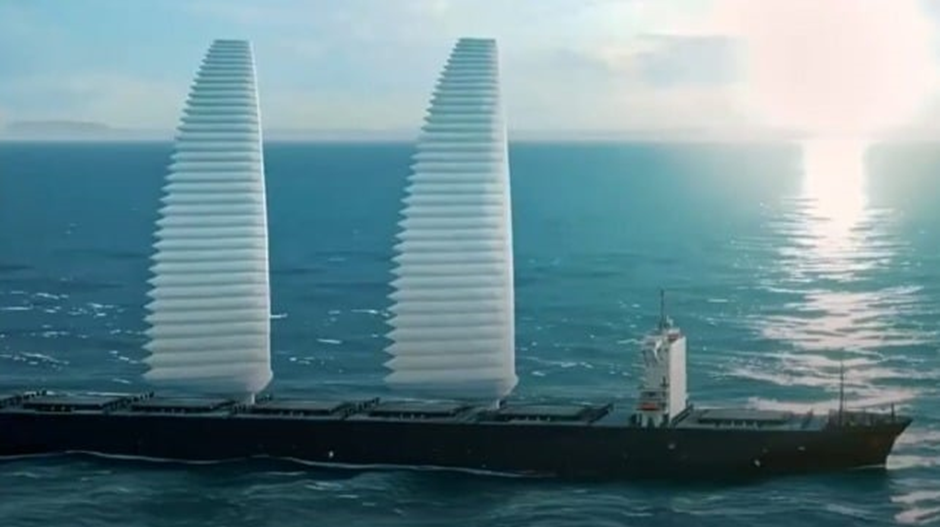 France's Michelin Group has been awarded an Approval in Principle (AiP) for its design for a wing sail system designed for commercial ships and pleasure crafts. Unlike other sail concepts, the Michelin design is an inflatable wing sail that is automated and full retractable. The design approval comes as Michelin is moving forward with tests of the system on an in-service Ro-Ro operating in Europe.
Introduced in 2021, the system which is known as WISAMO (Wing Sail and Mobility) was developed jointly by Michelin's research and development department in collaboration with two Swiss investors and involves famed French long-distance sailor, Michel Desjoyeaux, the only person to twice win the Vendée Globe race. They said the design is suitable both for retrofits and new construction and especially suited to ro-ro ships, bulk carriers, and oil and gas tankers.
The initial tests of a WISAMO sail were carried out on a sailing yacht in late 2021 and early 2022. In the second phase of the testing, they are installing a 100 sq. meter prototype which will help them to refine the technical aspects of the concept.
The first technical tests demonstrated, Michelin reports, that the wing sail system offers a wide range of use, including "close-hauled" (headwind), providing what they believe is one of the widest operating ranges for modern sail technology. They project that it can be used on all maritime routes and because it is retractable, it provides easy access for navigation in ports and under obstacles such as bridges. The company expects to achieve up to a 20 percent energy saving from the use of the sail and reduce emissions.
"We are very pleased to receive this AIP for the WISAMO solution," said Gildas Quemeneur, Initiative Leader at Michelin. "It is a very important step forward the further development of this innovative solution to contribute to maritime transport decarbonization. We are now ready for the wing sail usage on MN Pelican Ro-Ro that will allow experimental tests in heavy maritime conditions. All returns of experience will now contribute to build the larger WISAMO wing sail."
The first installation on a commercial vessel, the 8,600 dwt Compagnie Maritime Nantaise ro-ro cargo vessel Pelican began in late 2022. The 508-foot-long vessel operates under charter to Brittany Ferries and sails between Poole, Great Britain and Bilbao, Spain. This installation will allow testing of the system under commercial maritime navigation conditions.
Source – THE MARITIME EXECUTIVE