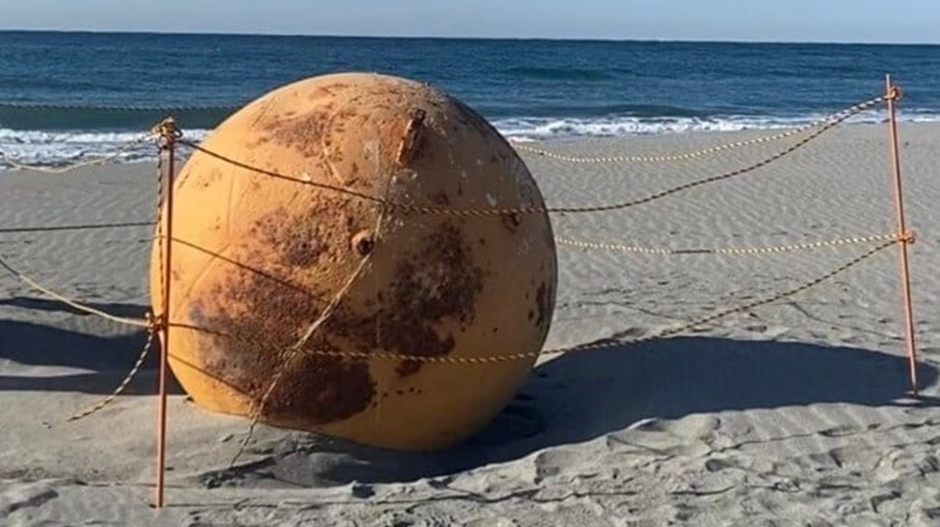 A steel object identical to an offshore mooring buoy was discovered on a beach in Hamamatsu, Japan this week, drawing considerable attention from local police, residents and international media. The careful scrutiny reflected heightened vigilance following recent revelations of a Chinese balloon surveillance program, including possible overflights of Japan.
This week, a local resident spotted a round, rusty sphere on the beach in Hamamatsu and reported it to local police. (At the time of the report, it had already been there for at least a month, another resident told NHK.)
The object was made of steel, and it had all the characteristics of a large-size mooring buoy, including its approximate diameter and the padeye fittings on both ends.
Local authorities were unsure of its nature and sent a bomb squad to investigate. As a helicopter news crew filmed the scene, they examined and scanned the object. The squad determined that the sphere was hollow and harmless, but the police were still uncertain of its source and purpose. They sent photographs to the Japan Coast Guard and to national security services for further analysis.
Japanese social media quickly took an interest in the object: some users noted that Japan once used a naval mine of similar size and shape, though of riveted construction. Others suggested that its origin might be from outer space, or from a foreign intelligence agency.
On Thursday morning, officials from Shizuoka Prefecture identified the object as a mooring buoy. With the mystery resolved, an excavator dragged the sphere up the beach and loaded it onto a dump truck for scrapping, bringing most speculation to a close.
Prof. Yoshihiko Yamada, an oceanographer at Tokai University, told Japanese outlet TBS that the buoy looked like the kind used for setting up fish reefs in Japan's southern regions. It could have broken loose, drifted north and washed ashore in a storm. Prefectural officials disagreed, suggesting instead that it was of foreign origin and was used in offshore survey operations.
Source – THE MARITIME EXECUTIVE