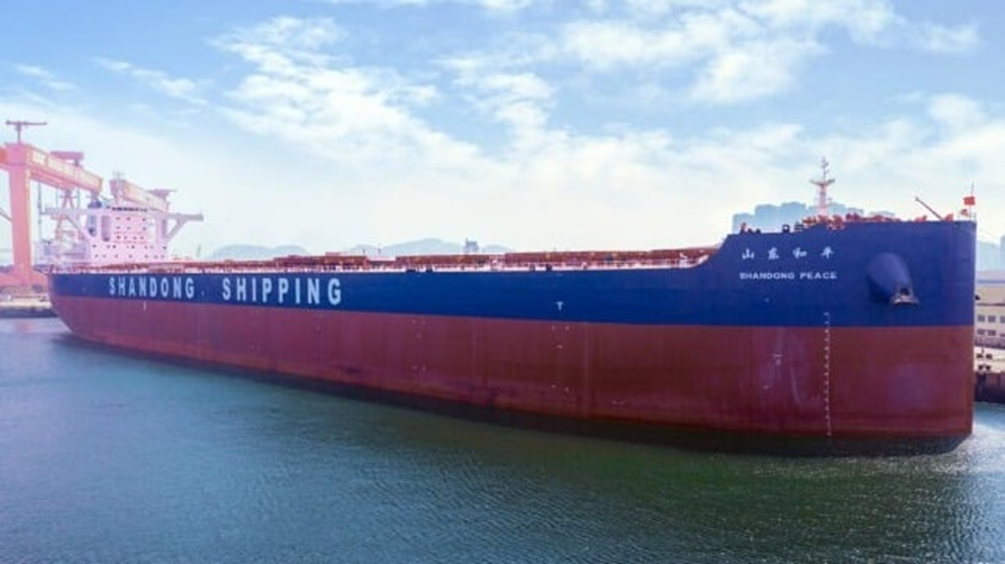 China's state-owned Shandong Shipping group reports that it has placed its largest shipbuilding order for bulk carriers as part of an R&D project that is designed to support the decarbonization of this core element of shipping. At least one of the ships will be the first in China to be equipped with a CO2 capture and storage technology.
The deal is also unique as it continues the development of Shandong Huachen Leasing, a subsidiary, as it transforms into shipping finance and seeks strategic cooperation with foreign shipping companies. Huachen will finance the construction of the new class of ships working with Everbright Financial Leasing, part of China Everbright Bank. Last month, Huachen Leasing completed its first operational leasing project with the delivery of the last of Shandong's Transcenden bulker series. The last of the vessels, an 85,000 dwt bulker named Transcenden Fortune was delivered by Dalian Shipbuilding Heavy Industry.
The newly ordered class call for a total of 12 Kamsarmax bulkers to be built by Jiangsu Xinhantong Shipbuilding Heavy Industry Co. The vessels will also be 85.000 dwt with a length of 751 feet. They will be developed using the Dolphin 82 bulk carrier developed and designed by SDARI. They are scheduled for delivery in 2024 and 2025.
The pilot project for the CCS system will be using technology developed by the Research Institute operated by China State Shipbuilding Corporation. The carbon capture will be in addition to an environmentally friendly design for the vessels. The ship design for the project will be equipped with MAN-B&W 6G50ME-C9.6 main engine, which according to Shandong will meet the IMO's Tier III nitrogen oxide emission standard and EEDI three-stage energy efficiency standard. The ships will be the first batch order in China that meets the "double three" emission standard.
Shandong has a heritage of deploying advanced ship designs. Last year, the company took delivery of the Shandong Peace, the last of the company's four 210,000 dwt bulk carriers built by Qingdao Beihai Shipbuilding. The bulker is 984 feet long and currently operating between China and Australia.
Shandong Shipping reports that it has the third-largest shipping capacity in China. The company's strategy focuses on the development of modern ocean-going capacity and the deployment of advanced technologies and designs.
Source – THE MARITIME EXECUTIVE