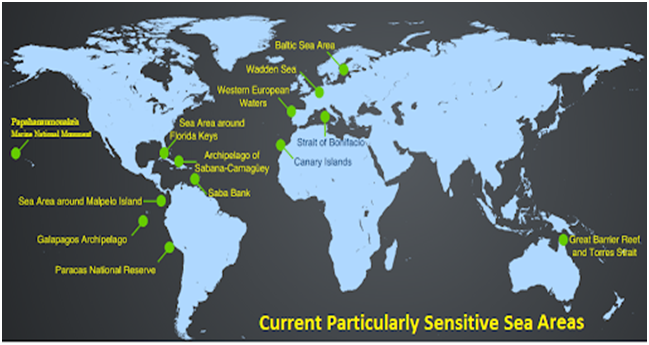 Q. The 'The Lakshawadeep Island" and the "Andaman and Nicobar islands" are known for their critical habitat and required to be protected from marine pollution. Describe briefly how these islands could be protected from marine pollution. Explain briefly the term "particularly sensitive sea area". Describe briefly the various criteria associated for identification and designation of a PSSA.
Answer :-
1. Lakshawadeep and Andaman islands because of their critical habitat and ecological criteria such as unique and diverse ecosystem and vulnerability to degradation by natural events or human activities such as marine pollution can be protected as follows.
a. As both islands falls under Indian coastline, and India being part of International treaty UNCLOS, so provisions of UNCLOS are also relevant.
b. Further, India has included both the island under 'MPA- Marine Protected Area'. These are the area in oceans where human activities are stringently monitored.
c. Specific measures can be used to control the maritime activity in these areas, such as routeing measures.
d. Strict application of MARPOL discharge and equipment requirements for ships such as oil tankers.
e. Installation of vessel traffic services (VTS)
f. Designate an area as a special area
2. Particularly Sensitive Sea Area (PSSA)
It is an area that needs special protection through action by IMO because of its significance for recognized ecological or socio economic or scientific reasons and which may be vulnerable to damage by international maritime activities.
Eg – The great barrier reef, Australia (1990), Canary Islands, Spain, Western European waters.
3. Criteria for identifying and designation of PSSA
The IMO assembly in its 24th session adopted revised guidelines for the identification and designation of PSSA.
Applications for the identification of a PSSA are submitted to the IMO by member governments.
CRITERIA – In order to be identified as PSSA ,
a. The area should meet at least one of the ecological, socio-economic or scientific criteria listed below.
b. The area should be at risk from international shipping activities.
c. There must be measures that can be adopted by the IMO to protect the area.
The criteria for the identification of PSSA are as follows:
1. Uniqueness or Rarity – If an area is only one of its kind.
2. Critical Habitat – If rare or endangered marine species are present.
3. Dependency – Eg – Coral reef, Kelp forests, Mangrove forests
4. Representativeness
5. Diversity – Area may have exceptional variety of species or variety of ecosystems
6. Productivity – Area that has a high rate of Natural Biological production.
7. Breeding grounds.
8. Naturalness – area that has experienced a relative lack of human distribution.
9. Integrity – Area of self sustaining ecological entity
10. Fragility
11. Biogeographic importance.
Social, cultural and economic criteria :
1. Social or economic dependency – Eg. Fishing, recreation, tourism and livelihood of people who depend on access to the area.
2. Human dependency – Area that id of particular importance for food production activities.
3. Cultural Heritage – Area that is of particular importance because of the presence of significant historical and archeological sites.
Scientific and Educational criteria –
1. Research – An area that has high scientific interest.
2. Baseline for monitoring studies – An area that provides suitable baseline condition with regards to biota or environmental characterstics.
3. Education – An area that affects an exceptional opportunity to demonstrate particular natural phenomenon.
An application for PSSA designation should contain a proposal for associated protective measures (APM) for preventing, reducing or elimination the threat or identified vulnerability.
Vulnerability to impact from international shipping.
1. Vessel traffic characteristics
a. Operational factors i.e. type of maritime activities (Oil rig, Fishing, Pleasure craft.)
b. Vessel types – (high speed vsl, large tanker, bulk carrier)
c. Harmful substances carried.
2. Natural factors –
a. Hydrographical
b. Meteorological
c. Oceanographic