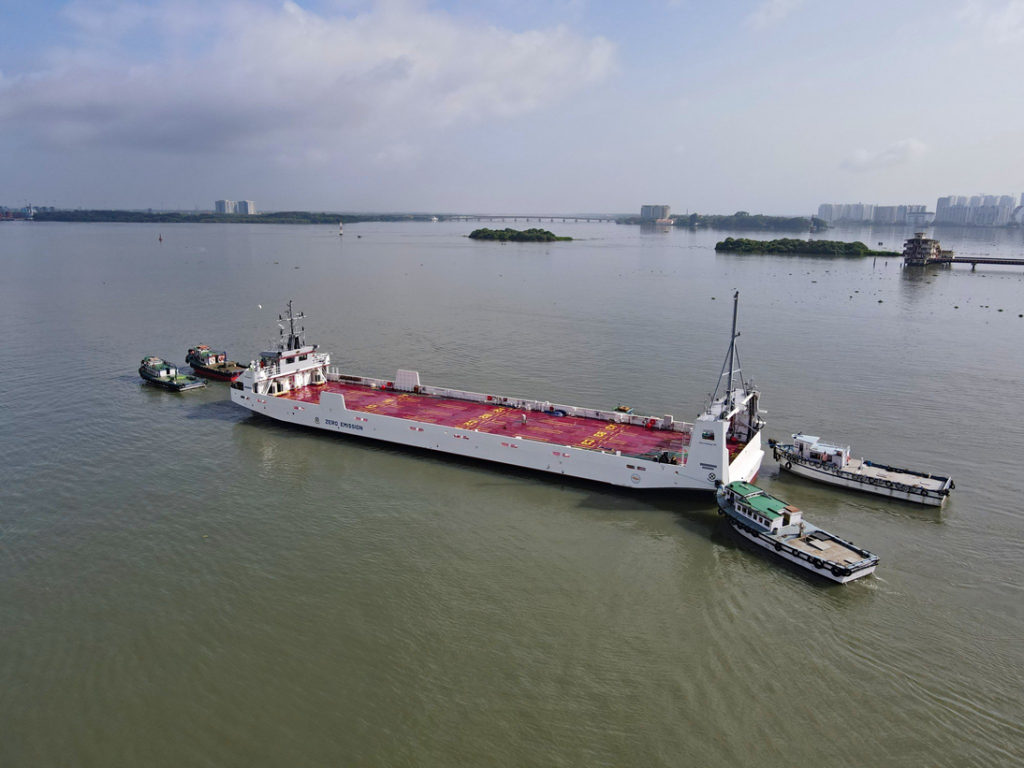 India aims to become a global hub for green shipbuilding by 2030 and is launching a Green Tug Transition Programme as part of the strategy.
The programme was announced in late March by India's Union Minister of Ports, Shipping & Waterways (MoPSW) Ayush Shri Sarbananda SonowaI while inaugurating India's first National Centre of Excellence in Green Port & Shipping (NCoEGPS) in Gurugram, Haryana.
The country's major shipbuilder Cochin Shipyard Limited (CSL) Kochi is already making significant progress in the construction of environmentally friendly ships, propelled by fuel cells and hydrogen.
According to the minister, the programme will start with green hybrid tugs which will be powered by green hybrid propulsion systems and subsequently adopt non-fossil fuel solutions like methanol, ammonia and hydrogen.
The target has been set for the initial green tugs to start working in all major ports by 2025. At least, 50% of all the tugs are likely to be converted into green tugs by 2030, helping the country considerably reduce emissions as it moves towards achieving sustainable development.
The National Centre of Excellence in Green Port & Shipping is expected to serve as a hub for collaboration, bringing together experts, industry stakeholders, and policymakers to drive regulatory framework, sustainable practices and accelerate the growth of green shipping in the country.
Making India's ports and shipping more environmentally friendly is seen as an important part of the country's quest to become carbon-neutral by 2070.
The effort is part of Maritime Vision Document 2030, released by Prime Minister Shri Narendra Mod, a ten-year blueprint for India's vision of a sustainable maritime sector and vibrant blue economy.
The PM Gati Shakti – National Master Plan for Multi-Modal Connectivity along with the Green Ports initiative has already accelerated the development of green logistics supply chain in the country. The country's ports aim to cut carbon emissions per ton of cargo handled by 30% by 2030.
What is more, India has been selected as the first country under the IMO Green Voyage 2050 project to conduct a pilot project related to green shipping. The ministry has already identified Paradip Port, Deendayal Port, and V.O. Chidambaram Port to be developed as hydrogen hubs – capable of handling, storing, and generating green hydrogen by 2030.
The development of this important infrastructure will pave the way for India to export green hydrogen, produced in the country using renewable sources, with the support of NCoEGPS in technology and market leadership.
Green hydrogen is expected to play a critical role in India's National Green Hydrogen Mission strategy as the country looks to tap into its vast renewable energy resources.
The government anticipates the mission to result in the development of a green hydrogen production capacity of at least 5 million metric tonnes (MMT) per annum with an associated renewable energy capacity addition of about 125 GW in the country.
In addition, shipping is being targeted as part of the first stage of the phased transition approach together with steel production, long-haul and heavy-duty mobility.
Under the strategy, India's oil and gas public sector undertakings would be required to charter at least one ship each to be powered by green hydrogen or derived fuels by 2027.
Thereafter, they will need to add at least one ship powered by these fuels for each year of the mission. The oil and gas companies currently charter about 40 vessels that are used for the shipping of petroleum products.
In addition, India plans to establish green ammonia bunkers and refueling facilities at least at one port by 2025. By 2035, all major ports in the country are expected to have ammonia bunkering facilities in place.
Source – https://www.offshore-energy.biz by Jasmina Ovcina Mandra