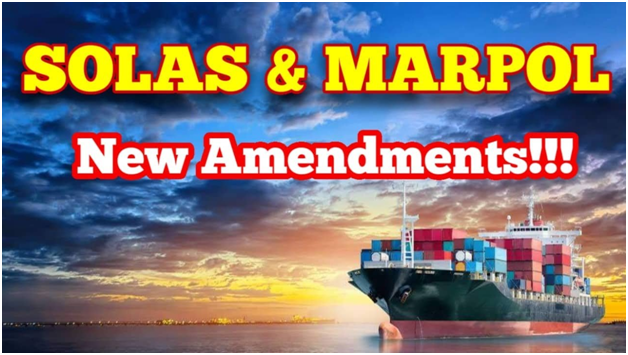 MARPOL
1) 1st  March 2018 – Data collection system for fuel oil consumption on ships.
IMO documents : MARPOL Annnex 6, regulation 22, 5000GT & above.
Entry in to force(EIF) under tacit acceptance procedure : 1st March 2018.
-For 3 years sampling from 2019, 2020, 2021.
Statement of compliance : Data in correct format.
To revise green house strategy : Valid for 1 year.
31st Dec. – Data collected on ships
March – Data given to flag state/RO
May –statement of compliance given to ship+(Data to IMO database)
Before dec. 2018 – Plan approved by the flag state & confirmation of compliance (coc)issued.
2)1stMarch 2018 – Declaration of HME in garbage record book+ revision in form of garbage record book.
MARPOL annex v all ships.
3)1stMarch 2018 –
Amendment to Marpol annex 1 form B of supplement to IOPP certificateswrtSegregated ballast tank in compliance of reg. 18, new & existing oil/Chemical tankers of 150 GT & above.
.
4)1st Jan. 2019 –
Amendment to Marpol annex vi by MEPC 286(71)
For all vessels – BDN changes
Information to be included in BDN.
Designation of Baltic &North Sea for NOx tier 3 control area.
Addition of NOx emission areas for new ships constructed from 1st Jan. 2021 – (North Sea, Baltic sea, NOx area.)
5)1stsept. 2019 – Amendments to Marpol annex vi EEDI by MEPC 301(72).
New ships:RO-RO cargo ship/RO-RO passenger ships of 400GT & above.
Ships contracts for the construction 1st Jan. 2020.
Constants A and C have changed so designing is easy for roro ships.
6)1st Jan. 2020 – Marpol annex vi: Limit for Sulphur content 0.5%, for all ships MEPC280(70).
7)1st March 2020 – Marpol annex vi: Prohibition for carriage of non compliant fuel.
Sulphur > 0.5%, All ships MEPC 305(73).
8)1stOctober 2020 – Category A ships as defined in polar code, new ships
400 GT &above : Ships contracted or constructed after oct. 2020.
Marpol annex vi MEPC 316(74).
9)1stOctober 2020 – Electronic record books,Marpol annex I, ii, v, vi & NOx technical file as per MEPC 312(74) ,MEPC 314(74), MEPC 316(74), MEPC 317(74),for all ships.
SOLAS AMENDMENTS:
1)1st Jan. 2024 –
Amendments to form C, E and P in appendix to Solas certificates as per MSC456(101)
Details of navigational systems & equipments – Rudder, propeller, thrust, pitch & operational mode indicator.
2) 1st Jan 2020
Passenger ship safety as per SOLAS 2-1/8-1, MSC436(99)
Length 120m & above for existing ships before 2014 to comply with by 1st renewal survey after 1stJan 2025
Damage stability: Availability of essential system in case of flooding damage
reg. ii-2/21.4.
Operational information after flooding casualtyneeded master to return to port which consist of-Onboard stability computer and Shore based support.
3)1st Jan. 2020.
Requirement for maintenance of life boats.
Solas chapter 3/3 and 20 MSC 402(96).
For new & existing ship
4)1st Jan. 2020.
Evacuation analysis for passenger ships carrying more than 36 passengers other than RO-RO passenger ship.
Solas chapter 2 & 3 MSC 404(96).
For new ships keel laid on or after 1st jan. 2020.
Response duration (R): Duration taken for people to react to a situation. This duration begins upon initial notification of an emergency, ends when passenger has accepted the situation & begins to moves towards an assembly station.
Individual travel
Individual assembly duration
Total travel duration(T).
Calculate total evacuation duration
= 1.25(R+T) + 2B (E+C) <=n
5)1st Jan. 2020.
Protection against noise Solas 2-1/3-12 MSC 409(97) all ships.
Amendments to Solas 2-1 on application of code of noise level onboard ships.
Amendments Solas 2-1/3-12 to clarify the former code by resolution A468(12)
6)1st Jan. 2020.
Foam type extinguisher of at least 135 liters required for boiler space not required if protected by fixed water base local application fire extinguishing system.
Solas 2-2/10 MSC 409(97) for all ships.
7)1st Jan. 2020.
Harmonization of survey period of cargo ships not subjected to ESP code.
Solas 11-1/2-1 MSC409(97), For all non-ESP ships.
8)1st Jan. 2020.
Amendments to requirements on sub-division & damage stability Solas 2-1,
MSC 421(98)
new ships contracted after 1jan 2020 or delivered after 2024 and to existing passenger ships-relaxation provided wrt sub div and damage stab
9)1st Jan. 2020.
Requirements applied to vehicle spaces Solas 2-2/20, MSC421(98), All RO-RO ships.
Vehicles not using heir own propulsion in cargo spaces during loading/unloading to comply as per Solas 2-2/20 and in compliance as per reg 19 and imdg code
10)1st Jan. 2020.
Fire integrity of windows for ships carrying not more than 36 passengers
Solas 2-2/9 MSC 421(98), for new ships.
Fire integrity of at least or equal to 'A-0' class for windows.
11)1st Jan. 2020.
Modernization of GMDSS solas 4, 1994 & 2000 HSC code, 2008 SPS code & form of relevant certificates MSC 436(99), MSC 438(99), MSC 439(99), MSC 445(99), for all ships.
Further accept utilization of recognized mobile satellites services in addition to INMARSAT eg iridium satellite.
12)1st Jan. 2020.
Foam fire fighting appliances for the helidecks & helicopter landing areas.
FSS code chapter 17, Solas 2, MODO code, MSC 403(96) MSC 404(96)MSC 407(96). For new ships keel laid after 1 jan 2020
Dvalue–Largest dimension of helicopter used for assessment of helideck when rotors are turning.
For helidecks – At least 2 fixed foam monitors. At least 2 hose reels to reach at any part of helideck.
Minimum foam system discharge rate = Dvalue* 6 l/min/m²
13)1st July 2018
Amendments to 2011 ESP code, Solas 11-1/2, MSC 412(97)
 oil tanker, bulk carrier 500 GT & above and for new and existing ships
Clarify scope of close up survey and thickness measurement of double side skin bulky
14) 1st Jan. 2018
Amendments to 2011 ESP code, Solas 11-1/2, MSC 405(96)
oil tanker, bulk carrier 500 GT & above and for new and existing ships
ESP code consistent with revised IACS UR-Z10 for hull surveys
revised recommendations to enter enclosed spaces as per as per resolution A1050(27)