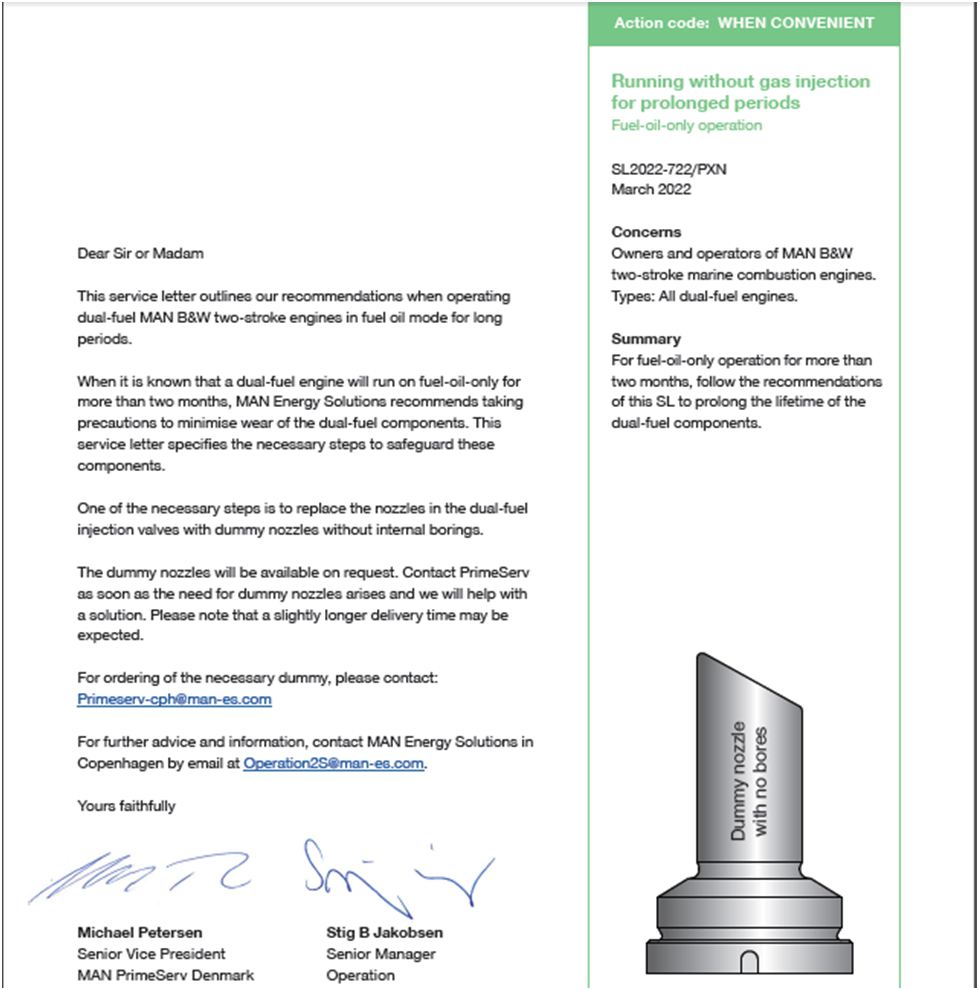 Recommendation for prolonged operation in fuel-oil-only mode
Short-term – up to two months
Normal operation in dual-fuel and fuel-oil-only modes in accordance with the usual maintenance guidelines specified by MAN Energy Solutions.
Advantages
No dis-/re-assembling procedures
No dummies
No tightness/verification test after re-assembling.
No further preservation spaces and treatment.
Weaknesses
As the dual-fuel injection valves are continuously exposed to the combustion process, their lifetime decreases.
Other dual-fuel components are still installed.
Mid-term – up to one year
Replace nozzles in dual fuel injection valves with dummy nozzles without internal borings, thereby protecting the dual-fuel injection valve against the influence from fuel oil combustion.
Purge the system weekly with nitrogen to prevent corrosion. By introducing N2 to a tight gas system, the oxygen is removed and the risk of corrosion is eliminated. Furthermore, when the purge function is used via the MOP, the sealing oil pump will automatically start up, which will also prevent the accumulation of dirt in the oil bores in the gas block, and in the pipes to the dual fuel valves and the top cover to the window valves.
Advantages
No significant dis-/re-assembling procedures. ONLY replacement of the nozzles.
Prolonged lifetime of the dual fuel injection valve.
Weaknesses
Other dual-fuel components remain installed on the engine.
Dummy nozzles must be ordered via:
Long-term – more than one year
For more than one year operation in fuel mode only, we recommend that you contact [email protected] as the precautions are related not only to the dual-fuel engine type, but also depends on the FGSS (fuel gas supply system) and other related components.
Source – MAN Energy Solutions