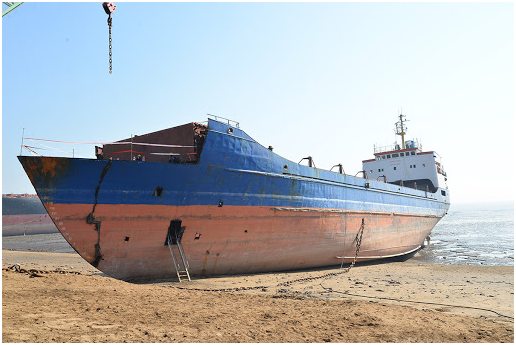 Q a. With reference to port state control, discuss
i) Regional cooperation / agreement.
ii) Future of port state control and
iii) Is PSC an effective tool for operational ship safety?
b. Define a sub-standard vessel & give examples of the detainable items under SOLAS, MARPOL, STCW & ICLL IMO conventions.
Answer:-
1. REGIONAL CO-OPERATION (RCO) / AGREEMENTS (RA):
a. By provision of the UNCLOS, flag state has been given the primary responsibility for assuring that a ship is equipped, operated, maintained & manned in compliance with the IMO conventions.
b. Some flag states have been inefficient in performing their duties with respect to UNCLOS & international conventions. PSC inspections are therefore needed as SAFETY NET to avert the operation of sub-standard ships. PSC will inspect a certain percentage of ships calling their port.
c. Regional Co-operation will avert operators from diverting their ships to ports with less stringent or no PSC.
d. RA covers exchange of the information – ships, their records & inspection results. So, subsequent ports need to target only those ships which have not been inspected.
e. Generally, as per RCO, period between PSC inspections is 6 months from date of visiting port, unless there are clear grounds to do so.
f. By RCO monitoring of the substandard ships in region becomes easier. So, ships which have been permitted to sail out with minor deficiencies under code 15 (rectify at next port) & 45 (next port informed) can be monitored by exchange of the information between MOU ports.
g. By RA / RCO UNIFORMITY CAN BE ACHIEVED (IN MANNER & METHODOLOGY) BETWEEN PSC INSPECTIONS. So, in one MOU similar standards can be applied for the DETENTION of SHIPS & TRAINING OF pscos.
h. Common practice to conduct JOINT SEMINARS FOR the PSCOs TO HARMONIZE PROCEDURES. PSC regimes were set up under a MOU.
i. Harmonized inspections will target substandard ships & finally eliminate them from area covered under the MOU.
2. PSC AN EFFECTIVE TOOL FOR the SHIP SAFETY:
a. Exercised for the purpose of verifying that the condition of the ship & equipment in accordance with the relevant IMO conventions. Ship is manned & operated as per National Law. IMO conventions having CONTROL PROVISIONS FOR PSC ARE:
1. SOLAS'74, CHAPTER 1, REG – 19; CHAPTER IX, REG – 6.2, CHAPTER XI-1, REG – 4; CHAPTER XI-2 REG – 9.
2. LOADLINES'66, ARTICLE – 21.
3. MARPOL 73/78, ARTICLE5, 6; ALL ANNEX (I-11, II-16, III-8, IV-13, V-8, VI-10)
4. STCW'78/95, ARTICLE – 10.
5. TONNAGE'69 – ARTICLE – 12.
6. AFS2001, ARTICLE – 11.
7. MLC 2006, ARTICLE V, REG – 5
8. ILO CONVENTION 147
b. Yes, it is definitely & effective tool for:
1. A combination of the specific obligations contained in relevant IMO instruments require that qualified PSCOs board foreign ships carry out inspections to access whether the ship & its crew, throughout the scheduled voyage is able to:
1. Navigate safely.
2. Safely handle, carry & monitor the condition of cargo.
3. Operate the Engine Room safely.
4. Maintain proper propulsion & steering.
5. Fire fight effectively.
6. Abandon ship speedily & safely.
7. Effect rescue.
8. Prevent pollution.
9. Maintain adequate stability.
10. Maintain adequate watertight integrity.
11. Provide safe and healthy conditions
12. Communicate in distress situations.
2. This is in addition to inspecting relevant valid documentation & ascertaining if the ship has number & skilled crew required in SMC to complete the intended voyage.
3. Powers of the PSCOs to detain or threaten to detain ships on various clear grounds forces the ship owners, operators, charterers & ship's crew to operate & maintain the ships in safe, efficient & environmentally friendly manner.
3. Future of PSC:
The future of the PSC is bright & Effective considering the below mentioned points.
a. The impact of PSC inspections on the ship & ship owners has grown with concerned members of the Regional PSC group becoming more organized & professional in their approach to inspections. When detention occurs, it can be seen by all concerned parties including charterers etc.
b. Ships with history of the detention find it increasingly difficult to trade unless they & their companies ensure compliance with IMO instruments.
c. With harmonization of inspections & procedures taking place, global exchange of the PSC related information is becoming easier. So, it is difficult for the substandard ships to operate in any MOU.
d. Better training is being imparted to the PSCOs globally. Hence they are becoming more competent in conducting inspections & chances of substandard ships slipping out from safety net are decreasing.
e. All collected data & statistics is exchanged among MOUs & also sent to IMO. Hence, substandard shipping operations will reduce worldwide.
f. IMO can analyze the reasons for the detentions, causalities & accidents so that shipping operations worldwide can become safer.
g. As a conclusion of all the above the PSC is an extremely important & efficient tool for effecting safe operation of ship & cleaner environment.