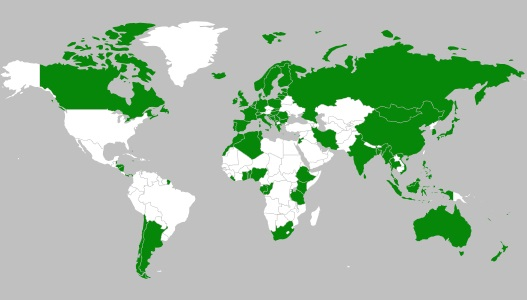 What is the MLC, 2006?
It is an universal international labour Convention which was accepted by the International Labour Conference (ILC) of the ILO, of article 19 of its Constitution, at a maritime session in February 2006 in Geneva, Switzerland.
It entered into force – that is, it became binding international law – on 20 August 2013.
The MLC, 2006 set off seafarers rights to suitable conditions of work.
It helps to create conditions of fair competition for shipowners.
It is considered to be globally applicable, easily understandable, readily updatable & uniformly enforced.
The MLC, 2006 has been developed as a global legal instrument that will be the fourth pillar of the international regulatory regime for the quality shipping, set off the key Conventions of the International Maritime Organization (IMO),(SOLAS, STCW ,MARPOL).
MLC 2006 consists of extensive set of the global standards, based on those standards that are already present in the maritime labour instruments (Conventions and Recommendations) adopted by the ILO between 1920 and 1996. It assists all other than four of the prevailing maritime labour instruments together in a single Convention that uses a new format, with some updates, where necessary, to reflect modern conditions and language. The Convention combines & revises the existing international law on all these matters.
PRE- MLC
On ships flying the flags of countries that do not exercise effective jurisdiction and control over them, as required by international law.
Seafarers often have to work under unacceptable conditions, to the detriment of their well-being, health and safety & the safety of the ships on which they work.
Generally seafarers lives are spent outside of their home country & their employers are also often not located in their home country, effective international standards are necessary for this sector.
These standards should also be imposed at a national level, particularly by governments that have a ship registry & authorize ships to fly their countries' flags (called "flag States").
It is also important to understand that there are many flag States and shipowners that take pride in providing the seafarers on their ships with suitable conditions of work. Those countries & employers face biased competition in that they pay the price of being undercut by shipowners that have substandard ships and operations.
The decision taken by the ILO to move forward to create the MLC, 2006 was the result of a joint resolution in 2001 by the officials of the international seafarers' and shipowners' organizations, later supported by governments.
They discovered that shipping industry is the world's first genuine global industry which needs an international regulatory response of an suitable kind – global standards applicable to the entire industry.
The industry called on the ILO to establish "an instrument which brings together into a consolidated text as much of the prevailing body of ILO instruments as it proves possible to achieve" as a matter of priority "in order to enhance the relevance of those standards to the needs of all the stakeholders of the maritime sector
ILO CONVENTIONS (PRE-MLC)
The 37 Conventions (36 Conventions and one Protocol) that are consolidated in the MLC, 2006 are listed in its Article X.
Article X
This Convention revises the following Conventions:
Minimum Age (Sea) Convention, 1920 (No. 7)
Unemployment Indemnity (Shipwreck) Convention, 1920 (No. 8)
Placing of Seamen Convention, 1920 (No. 9)
Medical Examination of the Young Persons (Sea) Convention, 1921 (No. 16)
Seamen's Articles of Agreement Convention, 1926 (No. 22)
Repatriation of Seamen Convention, 1926 (No. 23)
Officers' Competency Certificates Convention, 1936 (No. 53)
Holidays with Pay (Sea) Convention, 1936 (No. 54)
Shipowners' Liability (Sick & Injured Seamen) Convention, 1936 (No. 55)
Sickness Insurance (Sea) Convention, 1936 (No. 56)
What are the 2 basic aims of the MLC, 2006?
To ensure comprehensive worldwide protection of the rights of seafarers (the Convention is sometimes called the seafarers' Bill of Rights); and
To set up a level playing field for the countries & shipowners which are devoted to providing decent working & living conditions for seafarers, protecting them from unfair competition on the part of substandard ships.
What do you understand by the idea of "no more favorable treatment"?
Article V, paragraph 7, of the MLC, 2006 consists of what is often called the "no more favourable treatment clause".
It aim to ensure a "level playing field" under which the ships flying the flag of countries that have ratified the Convention will not be placed at a competitive disadvantage as compared with ships flying the flag of the countries that have not accepted the MLC, 2006.
However it appears that Article V, paragraph 7, could conceivably apply in various situations, in practice it relates essentially to the context of port State control under
Regulation 5.2.1, with respect to ships flying a foreign flag & calling at a port of a certifying country.