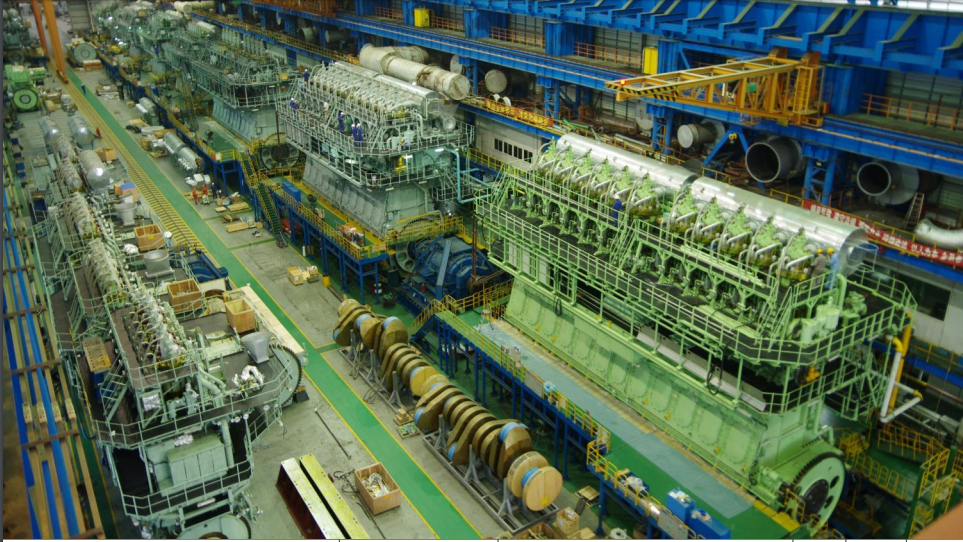 With regard to SOx & PM regulation, this is to be controlled by the limitations in the sulphur content of the fuel used. An alternative measure is the use of the scrubbers.
Emission projects currently in progress are listed below:
Water emulsion.
On 11K90MC engine owned by APL.
Singapore
Low sulphur fuel operation laboratory test, fuel pump test, & test in service on a ship. Initiated by CARB, APL, APM, Seaspan & MAN Diesel.
SAM (scavenge air moisturising)
Full scale test on the 6S60MC engine on a Wallenius Wilhelmsen car carrier.
EGR (exhaust gas recirculation)
Test on the MAN Diesel 4T50MEX research engine in Copenhagen has already been completed, & a 70% NOx reduction was achieved. A full scale test at sea is scheduled in the year 2009 together with a European shipowner.
Scrubber and after-treatment
To remove SOx & PM. Has been successfully tested at the Holeby on a different scrubber design in cooperation with shipowners. A full-scale test is scheduled in 2008.
Fuel change-over
A new change-over system between DO/DG & HFO, & vice-versa, has been developed to protect the engine. Will be tested at sea in the year 2008.
Conclusion
Tier II & Tier III of the IMO Annex VI are currently being settled in order to specify the acceptable levels of exhaust gas emissions in the years to come.
The MC & ME type MAN B&W engines will be able to meet the Tier II NOx limits by the internal engine methods.
Today, the expected Tier III 80% NOx reduction requirement can only be met by the use of external engine methods such as SCR.
However, by development and research, MAN Diesel has been able to achieve a NOx reduction of 70% by means of such internal methods as SAM and EGR. In the coming years, these systems will be fully developed in the market.
According to IMO, SOx & PM will be reduced by fuel sulphur level limits. Alternatively, an abatement system can be fitted, e.g. a fuel oil scrubber solution. MAN Diesel is also investigating this option to assure a safe, reliable & environmentally friendly operation of the MAN B&W propelled vessels.
It is difficult to further reduce the CO2 emission level created by the two-stroke process. However, by utilizing the waste heat, an improvement of the total energy utilized from fuel burned is achieved. Various system configurations offer up to 60% efficiency.
High fuel prices and emission concerns have increased the focus on utilizing natural gas as fuel oil. Not only in the LNG market, but also for other types of the commercial vessels conventionally operating on the HFO. The MAN Diesel engine programme covers this growing market with the low speed MAN B&W gas operating ME-GI type engine and the medium speed L51/60DF type engine.