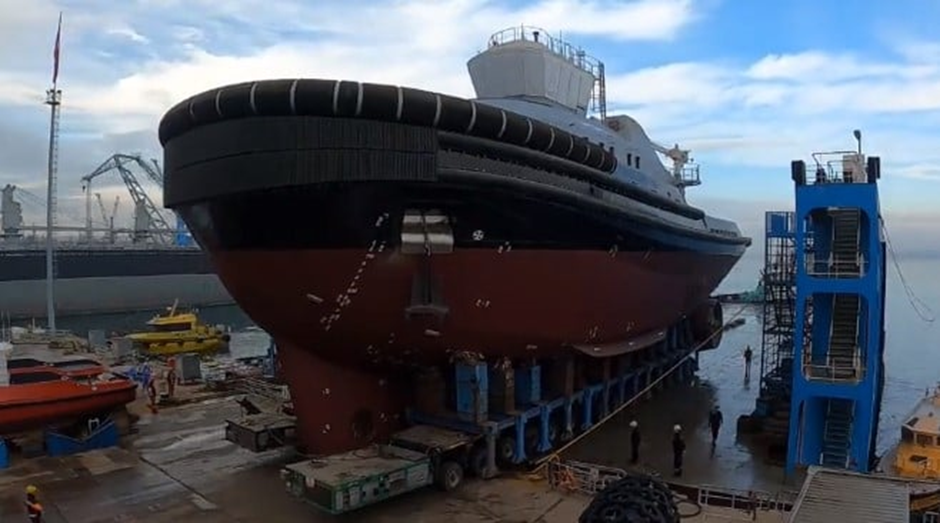 Turkey-based Sanmar Shipyards has undocked the first of two HaiSea Marine's LNG dual-fuel escort tugs.
HaiSea Marine, a joint venture partnership between the Haisla First Nation and Seaspan ULC, won a contract to build and operate escort and harbor tugs required for LNG Canada's LNG export facility in Kitimat, British Columbia back in 2019.
The ships have been designed by Robert Allan Naval Architects and Marine Engineers, and are under construction at Sanmar Shipyards in Turkey.
The technology group Wärtsilä will supply the main engines and LNG fuel gas supply systems for the two LNG-fuelled escort tugs.
They will each be powered by Wärtsilä 34DF dual-fuel engines operating with LNG fuel. The engines will be fitted with Wärtsilä's NOx selective catalytic reduction (SCR) system to restrict emissions of nitrogen oxides. Wärtsilä will also supply its LNGPac fuel storage, supply and control system.
At 40m in length and with 100 tonnes of bollard pull, these will be the West Coast of Canada's most powerful escort tugs when they arrive in BC later this year, according to Seaspan.
Once delivered, the tugs will be involved in berthing and unberthing LNG carriers at the LNG terminal in Kitimat as well as escorting them from Triple Island to the facility in Kitimat, approximately 159 nautical miles.
The tugs will also provide transportation of material and personnel, marine emergency response, firefighting and oil pollution response.
HaiSea Marine announced in 2021 that it will also provide battery-powered and low emissions tugboats for the terminal. Namely, the program includes the construction of three ElectRA 2800 electric harbour tugs bringing the total to five vessels.
Designed by Vancouver BC-based naval architect company, Robert Allan Ltd. (RAL), the tugs are also being constructed at Sanmar and they are scheduled to arrive in British Columbia in 2023.
The construction of the $17-billion export LNG terminal in Kitimat, British Columbia is well underway with its peak construction activity set to take place in 2023. It will initially consist of two LNG processing units referred to as "trains," with the capacity to produce 14 million tons per annum of LNG, with an option to expand the project in the future to four trains.
The project is being developed by LNG Canada, a joint venture between Shell Canada Energy, a subsidiary of Royal Dutch Shell (40%), North Montney LNG (25%), Phoenix Energy (15%), Diamond LNG Canada (15%), and Kogas Canada LNG (5%).
Source – https://www.offshore-energy.biz by Jasmina Ovcina Mandra