The main engine is fitted on the ship's hull with the help of holding down bolts and chocks. The floor where the engine is installed is excessively strengthened by heavy flooring and using additional bars and girders. The bedplate which is the base of the engine is attached by means of holding down bolts and chocks arrangement.
There are mainly two chock materials that are used to hold the main engine-
1. Cast steel Chock
2. Epoxy resins Chock.
CHOCKS TYPES
Support chocks
Side chocks
End chocks
PURPOSE OF CHOCKS
Chocks are used to compensate for the natural unevenness of the tank top
And provide engine with flat bed seating as close as to test bed of engine.
Arrangement of holding down bolts and chocks should be:
Support weight of the engine.
Secure engine rigidly in all sea conditions.
Withstand and transmit guide forces and propeller trust.
Provide enough stiffness to avoid resonance with propeller and engine induced vibrations.
Maintain alignment of engine.
SUPPORT CHOCK
END CHOCKS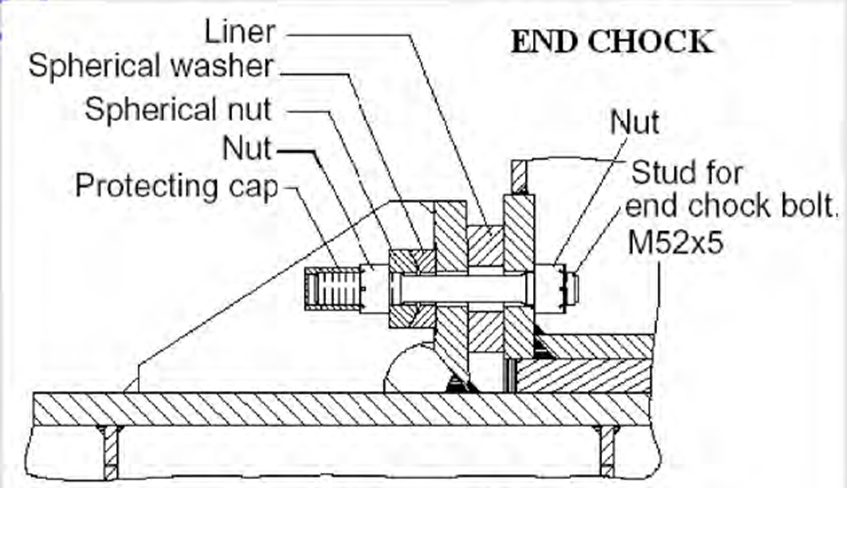 EFFECTS OF LOOSE HOLDING DOWN BOLTS
Fretting will occur between chocks bedplate and tank top.
If re tightened then permanent misalignment.
Reduce stiffness of holding down bolts.
Vibrations may be induced.
Increased load on remaining chocks.
The same bolt may again loosened.
Torsional stresses on crankcase due to misalignment.
PROCEDURES TO FIT CHOCKS
Alignment
Chocks of 45-50 mm jacked up
Tapered chocks 1:100
80% of contact area
crankcase deflection
MAINTENANCE
1st check- 500 Hrs
2nd check- 1000 Hrs
3rd check- 2000 Hrs
4th check- 4000 Hrs
5th check- 8000 Hrs
Subsequently every 8000 Hrs
EPOXY RESIN CHOCKS
Advantages over cast iron chocks
Approved by all class.
Better contact without machining the bedplate or tank top.
Can be operated at 80°c.
Fuel & L.O. corrosion eliminated.
No fretting because these gets adhered to the bed plate.
Reduces noise.
Fitting is in hours not in days or weeks.
high physical properties at elevated temperature.
EPOXY TECH
Removal of grease paint oil mill scale and rust particles.
Thickness 25mm not restrictions as such
Below 13 mm and above 44mm is also possible
Chock area no less than 130cm² for each
Apply a thin film of inorganic zinc for corrosion resistance
Quantity required is volume of resin + extra 10%.
CONSIDERATIONS
Machinery dead weight 7kg/cm²
No. and dia. of holding down bolts
Total dead weight includes tensioning of bolts should not exceed 35 kg/cm²
Effective area of chocking
Expected temp.
Holding down bolt torque to be adjusted 2.5 times more than the dead weight.
No allowance for shrinkage is necessary but we need a allowance of 0.001 *t, for the tightening of holding down bolts.
HOW TO
Condition resin and hardener for 24 hrs in temp of 20-25°c to suitable mixing and pouring viscosity.
Fit all bolts and hand tight them to a torque.
Construct dams height not less than 12mm and width not more than 20mm
Mix the resin and hardener– 200rpm for 3 min
After 3-4 hrs of pouring bring plate temp to
16-18 °c for 48 hrs
19-21° c for 24 hrs
Above 21° c for 18 hrs
EPOXY RESIN CHOCKS