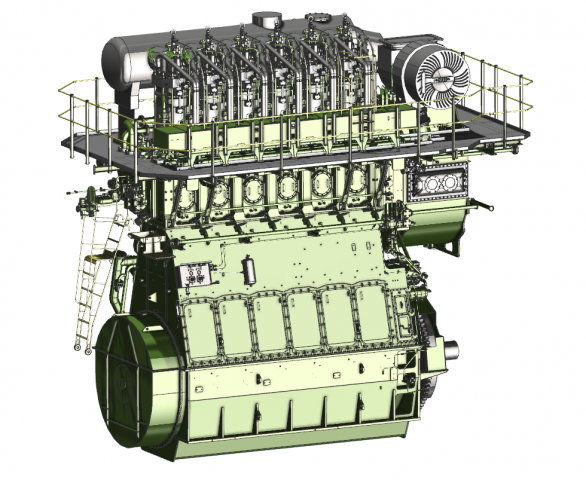 There has been too much puzzle with regards to the notations used for the Marine Diesel Engines. One can consult the engine manual & find out what such notations means.
However, this article will provide explanation for all the Notations used by the MAN B&W engines till date.
What has been collected will continuously be updated whenever there is a change or a new addition to the notations.
MAN – Germany – Maschinenfabrik Augsburg Nurnberg,
B&W – Denmark – Burmeister & Wain Motorfabrik A/S
The merger of above two Giants is now known as Man B&W.
Now, with some examples of engine name plate details & specifications, we will understand these notations. From the 1960s to present.
MAN B&W ENGINE Specifications:
774VT2BF(S)
7 – Number of cylinders
74 – Cylinder diameter in cm
V – Single acting 2-stroke
T – Cross Head
2B – Degree of Turbocharging
F – Marine application S – Stationary Application
7K74EF
7 – Number of cylinders
K – Two stroke cross head
74 – Cylinder diameter in cm
E/G – Engine model/Hydraulically Operated Exhaust Valve
F – Marine application
7L80GFCA
7 – Number of cylinders
L – Long stroke
80 – Cylinder diameter in cm
G – Engine model/Hydraulically Operated Exhaust Valve
F – Marine Application
C – Constant pressure turbocharging
A – Engine rating
7L80GFCA
7 – Number of cylinders
L – Long stroke
80 – Cylinder diameter in cm
G – Engine model/Hydraulically Operated Exhaust Valve
F – Marine Application
C – Constant pressure turbocharging
A – Engine rating
7S80MC
7 – Number of cylinders
S – Super long stroke
80 – Cylinder Diameter in cm
MC – Engine model/Programme
6K90MC-C/S
6 – Number of cylinders
K – Two stroke cross head
90 – Cylinder diameter in cm
MC – Engine model/Programme-
C – Short stroke container ship application-
S – Stationary Application
5L60MC MK-5
5- Number of cylinders
L – Long stroke
60 – Diameter of cylinder in cm
MC – Engine Programme
MK 5 – Engine version/Mark Number
6S90ME-C 9 GI TII
6 – Number of cylinders
S – Stroke/bore ratio – (G – 'Green' Ultra long stroke, S – Super long stroke,
L – Long stroke, K – short stroke)
90 – Diameter of the Cylinder in mm
M – Engine programme series
E – Concept – (E – Electronically controlled, C – Camshaft controlled)
C – Design – (E – Exhaust valve controlled by camshaft, C – Compact engine)
9 – Mark NumberGI – Fuel injection concept – ("blank" – Fuel oil only, GI – Gas injection)TII – Emission regulation – (TII – IMO Tier level)
Stroke/ Bore ratio:
K – Short stroke (approximately ratio = 2.8)
L – Long stroke (approximately ratio = 3.2)
S – Super long stroke (approximately ratio = 3.8)
G – Ultra long stroke (approximately ratio = 4.7)